Calling Tsarnaev an 'enemy combatant' creates a vicious double standard
Eric Rudolph, the anti-abortion bigot behind the 1996 Atlanta bombing, was tried as a criminal. What makes Boston different?

When is a violent attacker a terrorist, an enemy combatant or a criminal? To some hawkish Republicans, the answer appears to depend more on a suspect's religion than his actions or affiliations.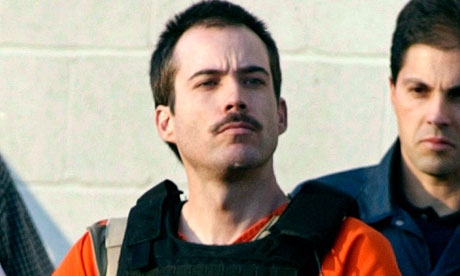 Eric Rudolph (in 2003), who is serving a life sentence for the 1996 attack on the Olympic Park in Atlanta that killed one and injured 111 – an attack that has been compared to the Boston Marathon bombing.


Dzhokhar Tsarnaev, the younger of the Boston bombers, is the latest example. In allegedly carrying out the bombing at the Boston marathon, Tsarnaev and his older brother appear to have acted alone. At time of writing, there is no suggestion that they were affiliated with any terrorist cell or organization, let alone the army of a foreign nation. The motives behind the bombing remain unclear, but even if the surviving Tsarnaev does go on to justify the attack with religion or anti-Americanism, that doesn't meet even the intentionally loose, disturbingly Orwellian definition of "enemy combatant" outlined post-9/11 by the Bush administration.

Given these facts, the White House made the common sense (and legally tenable) decision to try Tsarnaev in criminal court as a civilian. But some Republican legislators aren't content with using our justice system – they want Tsarnaev to be designated an "enemy combatant", against all the available evidence.

Senator Lindsey Graham, for example, recognizes that Tsarnaev couldn't reasonably be tried by a military tribunal, but says the administration should deem him an enemy combatant nonetheless, for intelligence-gathering purposes. To clarify Senator Graham's point: he's advocating against the basic constitutional protections that the United States affords individuals accused of crimes. Doing so displays not just a disturbing level of cynicism and bigotry, but a shameful lack of respect for the American justice system and the US constitution.

Our criminal justice system is vastly imperfect. We incarcerate more people than any nation in the history of the world, and we dole out sentences that are longer and harsher than they would be in many other countries. We've privatized the building of prisons, incentivizing more incarcerations. Our solitary confinement practices and our collective refusal to do anything about prison rape often means that incarceration crosses the line into torture.

[...]

The American criminal justice system has proven time and again that it is fully capable of trying domestic terrorists. There's little difference between the acts allegedly carried out by the Boston Marathon bombers and those committed by Eric Rudolph, the rightwing Olympic Park bomber. It's only the religion of the bombers that seems to be motivating the very different political responses.

Read the full article at: guardian.co.uk