CBS News reports Boston bombing suspect wrote message in boat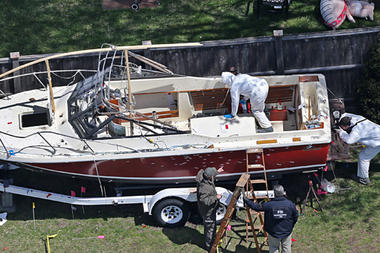 Accused Boston Marathon bomber Dzhokhar Tsarnaev, who was found hiding in a boat days after the blasts, left a handwritten message describing the attack as retribution for U.S. wars in Muslim countries, CBS News reported on Thursday.

The CBS News report, citing anonymous sources, said that Tsarnaev used a pen to write the message on an interior wall of the boat, where police found him bleeding from gunshot wounds four days after the April 15 bombing.

The note summed up with the idea that "when you attack one Muslim, you attack all Muslims," CBS News reported.

CBS News did not make clear how its sources knew the information and Reuters was not immediately able to confirm the report.

A spokeswoman for the FBI in Boston, Katherine Gulotta, declined to confirm or deny the report.

The CBS News report said Tsarnaev, 19, described his older brother and fellow suspect Tamerlan Tsarnaev, 26, who died in a gunbattle with police, as "a martyr."

"Basically, the note says ... the bombings were retribution for the U.S. crimes against Muslims in places like Iraq and Afghanistan and that the victims of the Boston bombing were 'collateral damage,' the same way innocent victims have been collateral damage in U.S. wars around the world," said CBS News reporter John Miller, who is a former spokesman for the FBI.

[...]

Read the full article at: news.yahoo.com




---

Red Ice Creations Comment:
Unnamed and unverifiable sources? Check.
Inflammatory, trigger words like 'attack', 'muslim', 'martyr'? Check.
No confirmation or denials from FBI or police? Check.
Instant guilt for the suspect in the court of public opinion? Check.

Reportedly Dzhokhar (the younger brother) was unarmed, holed up in a covered boat at night with no light source, and after being shot, was bleeding profusely. He found a pen and wrote out a message in the dark while under constant fire from police?

This whole scenario doesn't seem suspect to CBS?

With releases of nebulous, unsupported 'evidence' being released to the public, coupled with trigger words and the dramatic 'terror' narrative, how on earth is the suspect going to get any kind of fair trial?




---



The thermal imaging video, taken from a helicopter hovering over a residential area shows Dzhokhar Tsarnaev hiding under the tarpaulin in boat in house's back garden in Boston.