CCTV cameras in Britain capture 26 million images every day - Enough is Enough!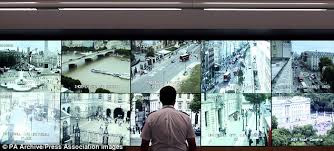 The surveillance issue isn't just about Edward Snowden and giant, unaccountable agencies like the NSA. This issue is happening at street level, everyday, and continues to oppress free people around the world. It's carried out (often with best intentions) by neighbors and friends and citizens of your own community.

The following Guardian article stands as a reminder that unless good people take action, the status quo will not change, the surveillance state will continue to grow, and the future of privacy will be left to the designs of government and law enforcement. It can already be demonstrated that their overreaching techniques are not reasonable, affordable, legitimate, or appropriate.

Take action where and when you can. This is a global problem that we can change locally. Everyone can start small by educating themselves on how to safeguard privacy on their phones or computers at home. City or town councils or community committees will often have details on local CCTV and security measures, and will hear complaints or challenges to the system. There are many ways to attack the pervasive surveillance state that has quietly blanketed us all.

This is not a problem without solutions.

Big Brother Watch : http://www.bigbrotherwatch.org.uk/

Privacy International : https://www.privacyinternational.org/projects/big-brother-inc

NO CCTV : http://www.no-cctv.org.uk/

---
CCTV cameras on Britain's roads capture 26 million images every day
By Nick Hopkins | The Guardian

The number of police CCTV cameras trained on Britain's roads has almost doubled over the last three years, giving police forces and the intelligence agencies access to up to 26 million images a day, the Guardian can reveal.



There are now more than 8,000 cameras in the network, with senior officers hopeful of extending it further because they regard it as a key tool that helps to cut crime and save lives.

However, the scale of the system is causing privacy campaigners grave concern and senior officers admit they need to do more to address fears about suspicion-less surveillance.

A national database that stores pictures taken by the automated numberplate recognition (ANPR) cameras currently has 17 billion images in its archive – thought to be the biggest of its kind anywhere in the world.

That number is likely to increase over the next five years with advances in technology and the roll-out of more fixed and portable cameras.

Although there is no specific police target, forces believe it should be possible to read and store between 50 million and 75 million "reads" a day by 2018.

Police also want to link the UK database – called the National ANPR Data Centre (NADC) – with similar systems run by other countries in Europe.

Julian Blazeby, who is the lead on ANPR for the Association of Chief Police Officers, said the system has become "one of the jewels of modern policing".But he conceded the cameras had concerned human rights groups and said the police needed to be more transparent about a system which has been shouded in secrecy.

"It is always a challenge for us, balancing the rights of individuals with preventing and detecting crime. However, we want to be as transparent as possible, and perhaps in the past we have not been as open as we could have been," he said.

"We want to reassure the public we are doing everything we can do prevent the misuse of the systems, with national standards and guidelines in place. ANPR is about helping the public to stay safe. I understand and respect people's concerns and I think we can address them."

But Nick Pickles, director of Big Brother Watch, raised concerns about the scale of the expansion of the system."ANPR is a classic example of a very intrusive technology being rolled out with zero public debate," he said.

The ANPR system has become a cornerstone of British policing over the past decade, but details of the number of cameras in operation, and the number of images on the database, are not publicly available.

The Home Office refused to give the figures to the Guardian or to detail how much police forces had spent on camera systems over the past three years.

However, the Guardian understands 46 forces in England and Wales have signed a memorandum committing themselves to share information to allow "the full exploitation of ANPR at national regional and local levels". Two images are taken of every vehicle – one focused on the numberplate, and a second of the whole car, which often includes the face of the driver. Details on the time of day and direction of travel are also kept.

The pictures can be kept for up to two years and cross-checked for "hits" against the Police National Computer and other "hotlist" databases, including the Driver and Vehicle Licensing Agency and the Motor Insurers' Bureau.

[...]

Read the full article at: theguardian.com





---
Tune into Red Ice Radio:
Charles Farrier - No CCTV, Campaign Against Big Brother Camera Surveillance
Jon Rappoport - Hour 1 - The Surveillance State & War on the Individual
John W. Whitehead - Hour 1 - A Government of Wolves & The Electronic Concentration Camp
John B. Wells - The Police State & Reconnecting with Your True Self
Nathan Fraser - Hour 1 - The Crumbling System of Law & Authority
John Hall & Don Raumake - Satellite Terrorism, Surveillance Technology, Implantable Microchips, Biometric ID Cards & Government Spying