Chernobyl's arch: Sealing off a radioactive sarcophagus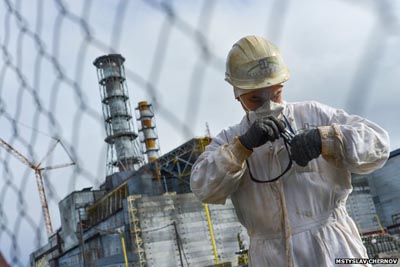 Work began in recent days to remove, bit by bit, the giant chimney protruding from the Chernobyl nuclear power station. It's one small part of a mammoth engineering project, now nearing completion, designed to slash the risk of another major release of radioactivity.

Massive and glittering in the weak winter sunshine, a half-built arch looms over Chernobyl's decaying industrial landscape of cooling towers and power lines.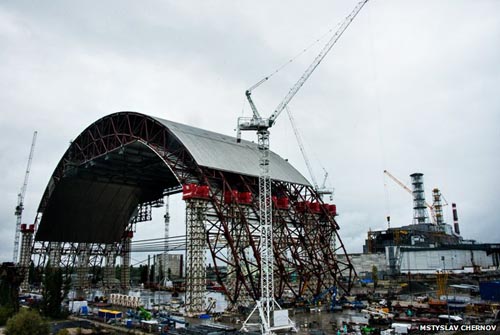 The ends of the arch will also be sealed


One of the biggest engineering projects in history, it has been likened to a gigantic metal igloo, built to seal off hundreds of tons of nuclear fuel and dust buried inside reactor number four, which in 1986 blew up and burned for 10 days.

Everything about the project is epic: the size, the 1.5bn euro (£1.2bn) cost, the technical problems of working on a radioactive building site.

At 110m (360ft) tall, the structure could house the Statue of Liberty, and at 257m (843ft) wide, there would be room for a football pitch. There are acres of metal panels in the roof, to seal off the reactor and the dangerous mess inside. The whole lot will be held together by 680,000 heavy bolts.

With these gigantic dimensions the arch would be difficult to build anywhere, but it is being assembled in one of Europe's more remote corners, a site surrounded by forest and marsh in northern Ukraine, far from the factories of Western Europe where its component parts are made. This autumn, as the project reached the half-way point, it was more than a decade behind schedule, although engineers believe work will now go more quickly and it could be finished in 2015.

"Nothing like this has ever been attempted before," says Don Kelly, 57, a nuclear industry veteran from Washington State, as he walks under the arch. He works with foreign specialists from 24 nations, as well as hundreds of Ukrainian workers. Young French technicians, who monitor radiation, work alongside Ukrainian veterans of the 1986 disaster, former Soviet engineers who risked their lives battling to put the fires out after the reactor exploded, sending a cloud of radioactivity across Europe.

Grinning with enthusiasm as he stares up at the roof, Mr Kelly points out Turkish workers in harnesses far overhead. "For anyone in the nuclear business, this is the place you want to be: the biggest, most exciting project in the world right now," he says.

[...]

Philippe Casse acknowledges that getting rid of all this highly radioactive material will be far more difficult than building the arch.

"Disposal will be an even bigger project," he says.

"There is no money at the moment.

"It could be done in 50 years' time. Perhaps there will be the technology to solve the problem then."

Read the full article at: bbc.co.uk




---