China pulls 1,000 dead ducks from Sichuan river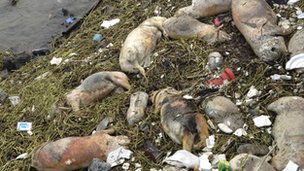 It's not clear where the ducks came from. Much like the pigs, the cause of death for the birds could not be determined as the bodies had so badly decomposed. The birds were found in woven plastic bags floating down the river.

Chinese officials have declared the public not to be at risk as "the river was not used for drinking water."

People are not convinced by the official assurances, while many are disgusted and outraged by the dump and the official evasions. As reported by the BBC, one commenter wrote "Dead pigs, dead ducks... this soup is getting thicker and thicker."

The efforts to remove the pigs from the Huangpu river, which supplies drinking water to Shanghai, is "basically finished", stated the government.

From FinancialTimes.com:

A local newspaper reported that one reason for such a large number of dead pigs being discarded into the river was that the government had cracked down on illegal traders who used to buy up dead pigs to make dumpling filling, leaving farmers with no way to dispose of pigs who die before slaughter, apart from river disposal.


"The origin of the pig carcasses remains a mystery, with Shanghai saying its farms have not reported an epidemic which would kill pigs in such large numbers. " Source

By Elizabeth Leafloor, Red Ice Creations




---
Sources:
BBC News
Financial Times
RT.com