Chinese Army's secret of success? European engineering
If the People's Liberation Army went to war tomorrow, it would field an arsenal bristling with hardware from some of America's closest allies: Germany, France and Britain.

Most of China's advanced surface warships are powered by German and French-designed diesel engines. Chinese destroyers have French sonar, anti-submarine-warfare helicopters and surface-to-air missiles.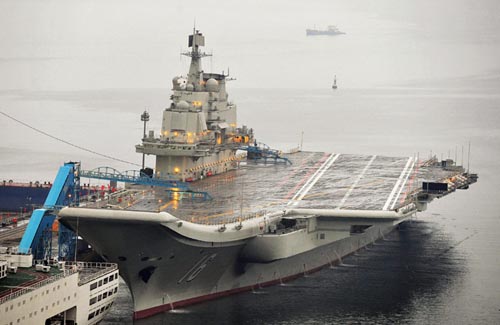 China's first aircraft carrier, which was renovated from an old aircraft carrier that China bought from Ukraine in 1998, is seen docked at Dalian Port, in Dalian, Liaoning province.


Above the battlefield, British jet engines drive PLA fighter bombers and anti-ship strike aircraft. The latest Chinese surveillance aircraft are fitted with British airborne early warning radars. Some of China's best attack and transport helicopters rely on designs from Eurocopter, a subsidiary of pan-European aerospace and defense giant EADS.

But perhaps the most strategic item obtained by China on its European shopping spree is below the waterline: the German-engineered diesels inside its submarines.

Emulating the rising powers of last century - Germany, Japan and the Soviet Union - China is building a powerful submarine fleet, including domestically built Song and Yuan-class boats. The beating hearts of these subs are state-of-the-art diesel engines designed by MTU Friedrichshafen GmbH of Friedrichshafen, Germany. Alongside 12 advanced Kilo-class submarines imported from Russia, these 21 German-powered boats are the workhorses of China's modern conventional submarine force.

With Beijing flexing its muscles around disputed territory in the East China Sea and South China Sea, China's diesel-electric submarines are potentially the PLA's most serious threat to its American and Japanese rivals. This deadly capability has been built around robust and reliable engine technology from Germany, a core member of the U.S.-led North Atlantic Treaty Organization.

Arms trade data from the Stockholm International Peace Research Institute (SIPRI) to the end of 2012 shows that 56 MTU-designed diesels for submarines have been supplied to the Chinese navy.

"They are the world's leading submarine diesel engines," says veteran engineer Hans Ohff, former managing director of the Australian Submarine Corporation, the company that built Australia's Collins-class conventional submarines.

[...]

Read the full article at: intoday.in




---
READ:
Sweden Arming The World: The Neutrality that Never Was