Climate change helped the Incas build civilisation
Their warfare, building and agricultural skills may have been impressive but, according to scientists in Peru, the Incas would have been nothing without good weather induced by climate change.

New research has revealed that a prolonged period of warm weather between AD1100 and 1533 cleared large areas of mountain land to be used for farming, helping the Incas to spread their influence from Colombia to the central plains of Chile.

With the tree line moving steadily higher up the mountains, the Incas carved terraces into the mountainside to grow potatoes and maize, and developed a system of canals to irrigate the land.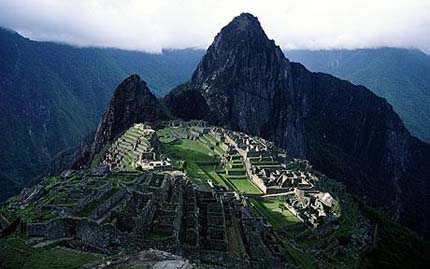 Machu Picchu: Scientists believe climate change was critical in allowing the Incas to build their civilisation Photo: Getty


The climate remained dry but melting glacial ice provided a constant supply of water, resulting in a surplus of crops to feed the population.
The men freed up from agricultural duties were then able to focus on other activities, among them constructing roads and buildings such as the Incas' 3,250-mile Royal Road through the highlands, the 2,520-mile Coastal Road and Machu Picchu, the Lost City of the Incas.

Dr Alex Chepstow Lusty, a British palaeoecologist working for the French Institute for Andean Studies in Lima, Peru, said the clement weather also freed up men to fight in the Inca's ambition and expansionist Army.

"Yes, they were highly organised, and they had a sophisticated hierarchical system, but it wouldn't have counted a jot without being underpinned by the warming of the climate," he told The Times.

"It was the perfect incubator for the expansion of a civilisation."

Dr Chepstow Lusty and his team made their discovery by analysing sediment on the floor of a small lake called Marcacocha, 11,000 feet above sea level in the Peruvian Andes near Cuzco, the cradle of the Incan civilisation.

The layers of sediment at different heights represent different periods of time, like rings in the trunk of a tree. The scientists found suggestions of trees and crops at the critical time, suggesting the tree cover had moved upwards.

Dr Chepstow Lusty believes modern civilisations have much to learn from the pre-Columbians when it comes to the environment.
He wants to see controlled deforestation and the increased growing of crops on terraces using glacier melt as irrigation.

"Such methods increase crop yields. In fact, they are beginning to be reintroduced by the local populations," he told the French scientific publication CNRS.

Article from: Telegraph.co.uk

Check this out: Machu Picchu 'Face'