Coast guard exercise on 9/11 anniversary sparks confusion
The U.S. Coast Guard conducted a training exercise in the Potomac River near the Pentagon amid Sept. 11 commemorations Friday, sparking confusion.

Coast guard chief Keith Moore said Friday no shots were fired as part of the exercise. Media reports suggested shots had been fired in the river and showed vessels circling in the water, near the bridge where President Barack Obama's motorcade passed as he travelled to a Sept. 11 memorial at the Pentagon.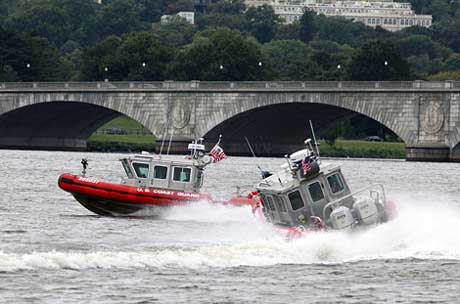 U.S. Coast Guard boats participate in a training exercise on the Potomac River in Washington, setting off a security scare on the eighth anniversary of the Sept. 11, 2001 attacks. (Yuri Gripas/Reuters)


Coast guard spokesman John Edwards said references to shots fired were picked up in radio chatter.

As part of its exercise Friday, the coast guard aired simulated instructions to participants to fire 10 rounds. But Edwards said there were no shots actually fired and there were no suspicious boats.

The coast guard exercise had nothing to do with the Sept. 11 anniversary, Edwards said.

"This is routine training for us and we train every day," he said.

Obama had travelled to the Pentagon to lay a wreath in a ceremony commemorating the eighth anniversary of the terrorist attacks.

Article from: CBC.ca