Copenhagen Update - 1,000 Anarchists Arrested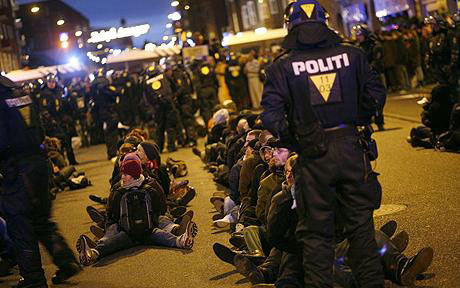 We are in Copenhagen right now. Oh boy, people don't know much about anything, especially the propaganda behind climate change. Some people acctually favour a global CO2 tax! This whole event is about political ideas, not about science. Very few even have heard about Climategate! If they only knew who pull the strings behind all of this. A mish mash of missdirected anger, beliefs and political ideologies have gathered here in Copenhagen under the umbrella of climate change. "Change NOW!" (What?). It was mostly socialist/communist groups during this demonstration. It's all very absurd consider how corporate sponsored EVERYTHING is here ...Just to mention a few: Siemens, Deutsche Bank, Volvo, Carlsberg, Panasonic and even Coca Cola have their 'mark' on the 'art' exhibits and installations around the city. The "Hopenhagen" sign hangs under a McDonald's sign just over a Burger King.

Regaring the arrests that took place today. There was Controversial legislation put in place before COP15, but also know that we saw the black hooded anarchists/syndicalists enter the parade/demonstration. They are probably here just to smash and trash. They could even be "sponsored" to act agents provocateurs, to "stir up the pot" and help give more power and control to police during future events like these. We got a strange vibe about it all. All of this happened not to far behind us while filming in the crowds walking. Unfortunately a few 'innocent' people probably got tossed into the mix of that whole thing.

It's frightening how hard people have fallen for the whole climate change scam and the propaganda behind it. Polar bears images are everywhere (sponsored by Panasonic)! People seem to think that the UN group meeting in Copenhagen aren't doing ENOUGH, quickly ENOUGH. How about that! "World government isn't created fast enough!" The signs read: "Act NOW," "Unfuck the planet," "Political Change not Climate change," etc.

The group that organized the walk/demonstration today (so I heard) was 350.org. Check this out: 350 is started and funded by the Rockefeller Brothers Fund! How about that! See here for more on that.

This energy draining 6-8 kilometer parade ended at Bella Center, where people for the last 2 of those was walking towards the new "trident god", the windmill, all lit up niceley in the background.

Read the telegraph story here: Nearly 1,000 people were arrested in Copenhagen yesterday as anarchists and left-wing activists fought running street battles with police in the Danish capital as negotiations continued at the climate summit.