Craig Murray: 'Official Tsarnaev Story Makes No Sense'
21st Century Wire says… This former US Ambassador, human right activist and whistle blower is saying what we have been saying all week – that the FBI's inflated profile of their prime suspects in the Boston Bombing are hardly plausible. Will Eric Holder and the DOJ pay attention?

---
Craig Murray

There are gaping holes in the official story of the Boston bombings.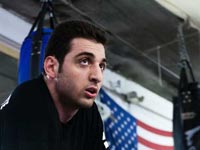 We are asked to believe that Tamerlan Tsarnaev was identified by the Russian government as an extremist Dagestani or Chechen Islamist terrorist, and they were so concerned about it that in late 2010 they asked the US government to take action. At that time, the US and Russia did not normally have a security cooperation relationship over the Caucasus, particularly following the Russian invasion of Georgia in 2008. For the Russians to ask the Americans for assistance, Tsarnaev must have been high on their list of worries.

In early 2011 the FBI interview Tsarnaev and trawl his papers and computers but apparently – remarkably for somebody allegedly radicalised by internet – the habitually paranoid FBI find nothing of concern.

So far, so weird. But now this gets utterly incredible. In 2012 Tamerlan Tsarnaev, who is of such concern to Russian security, is able to fly to Russia and pass through the airport security checks of the world's most thoroughly and brutally efficient security services without being picked up. He is then able to proceed to Dagestan – right at the heart of the world's heaviest military occupation and the world's most far reaching secret police surveillance – again without being intercepted, and he is able there to go through some form of terror training or further Islamist indoctrination. He then flies out again without any intervention by the Russian security services.

[...]

Read the full article at: 21stcenturywire.com




---
Tune into Red Ice Radio:
Patrick Henningsen - Hour 1 - Boston Bombings & Third Way Control Mechanism
Anthony Gucciardi - Hour 1 - Boston Bombings, Gun Control & Transhumanism
Joseph P. Farrell - Hour 1 - Fake Terrorism, Covert Wars & ET Threat Assessment
Holland Vandennieuwenhof & James Lane - Hour 1 - A Noble Lie: Oklahoma City 1995