Creepy Computer-Generated Avatar Greets Travelers At Airport


The future was among the arrivals at Newark Airport on Friday, in the form of a computer-generated greeter at the gate.

Travelers met "Libby." She's Newark Airport's newest — and perhaps most chipper — customer service rep. You may have noticed that she's a bit shallow, and she's completely two-faced, but she's always smiling, and she never complains.

"Hello, and welcome to Newark Liberty International Airport. You have arrived at Terminal B," the avatar says.

Libby's presence seemed to catch arriving passengers off-guard Friday. Some loved her … or it, but not everyone was enchanted by her computer-generated smile, CBS 2's Alex Denis reported.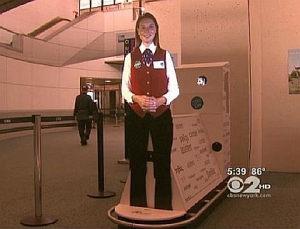 "It's a little bit freaky when you walk down there. Her body doesn't look real but her head does," one woman said.

"It's freaky!" another woman said.

"I think it's weird," another said.

The Port Authority of New York and New Jersey spent $180,000 on Libby and four machines like her. It may have been a bargain as some travelers compared it to Leonardo da Vinci's priceless "Mona Lisa."

"I think it's scary. Its eyes follow you," a traveler said.

"It's really odd the way her eyes follow you. It's really odd!" a man added.

[...]

Read the full article at: newyork.cbslocal.com