Danes reject refugee plea from former Swedish PM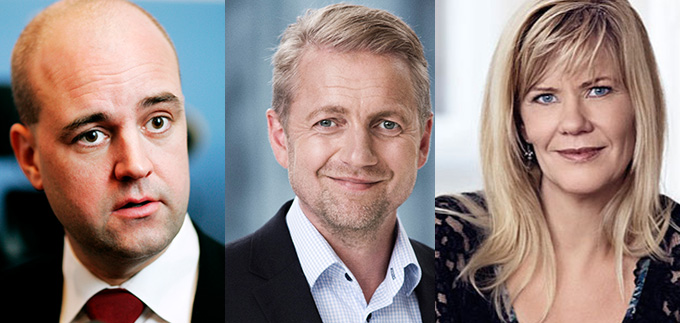 Left: Fredrik Reinfeldt (Former Swedish PM - maniac), Center: Martin Geertsen (a Danish socialist with a brain) Right: Mette Reissmann (A Danish social democrat with common sense).



The declaration by Sweden's former prime minister Fredrik Reinfeldt that "there is plenty of space for more refugees" in the Nordic countries has been slammed by Danish leaders.

In an interview with Danish newspaper Politiken over the weekend, former Swedish PM Fredrik Reinfeldt criticised the Danish government's plans to make resident permits for refugees temporary, saying that there is plenty of room in the Nordic countries to permanently house people fleeing oppression and war.

"There is no place for the Sweden Democrats on the 'borgerlig' (liberal/conservative) side of Swedish politics".

Discussing immigration across the Nordic region, he said:

"What does the word 'enough' mean? Is Sweden full? Is the Nordic region full? Are we too many people? We are 25 million people living in the Nordic region. I often fly over the Swedish countryside and I would advise others to do. There are endless fields and forests. There's more space than you might imagine. Those who claim that the country is full, they should demonstrate where it is full," the former Swedish leader said.

But Danish politicians have failed to jump on board with his plan to welcome more refugees to the region.

"This is the first time I've heard that a country's geographic size should determine how many people from distant lands can fit in. That's a new one for me. But space is not the problem – the problem is that we have huge economic and cultural challenges," Martin Geertsen, the integration spokesman for opposition party Venstre, told Danish media outlet BT.

Reinfeldt also made what seemed to be a thinly-veiled jab at the Danes' strict immigration policies by saying that he distances himself from "those who think that security lies in everyone being the same, being homogenous and keeping out those who are different".

Why Danes are smarter the Swedes: Putting a Price on Foreigners: Strict Immigration Laws 'Save Denmark Billions'

Mette Reissmann of the ruling Social Democrats also dismissed Reinfeldt's criticism.

"We are not Swedes. We are Danes," she told BT, adding that Denmark doesn't share Sweden's goal of being seen as a "humanitarian superpower."

"We have the ambition of doing what is right for Denmark. It is about finding a balance, and that's why we have a law proposal that will tighten our asylum policies," Reissmann continued.

Danish politicians have previously expressed strong concerns that Sweden's generous asylum policies will affect Denmark, as citizenship agreements between Nordic nations allow refugees who obtain Swedish citizenship to move to Denmark without a Danish resident permit.

Source: thelocal.se

Comment: Yes, this is really the insanity from someone like Reinfeldt who has brought Sweden close to ruin with many years of liberal economic policies and endless immigration.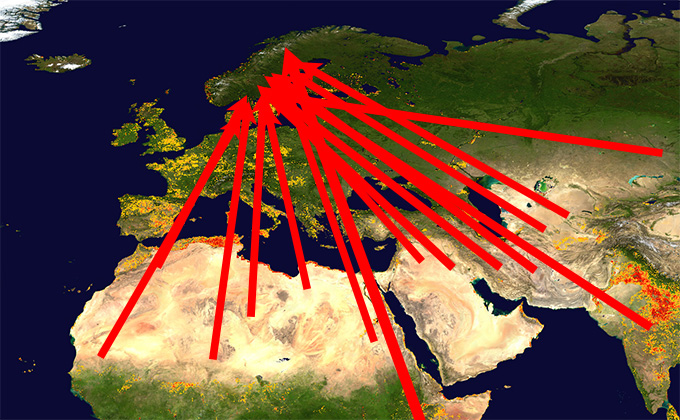 Fill Sweden to the brim Reinfeldt! Cut down all the trees, pave over the forests, fill in the lakes and wetlands, level out the mountains and bring the rest of the world to come live in Sweden. That'll DO IT!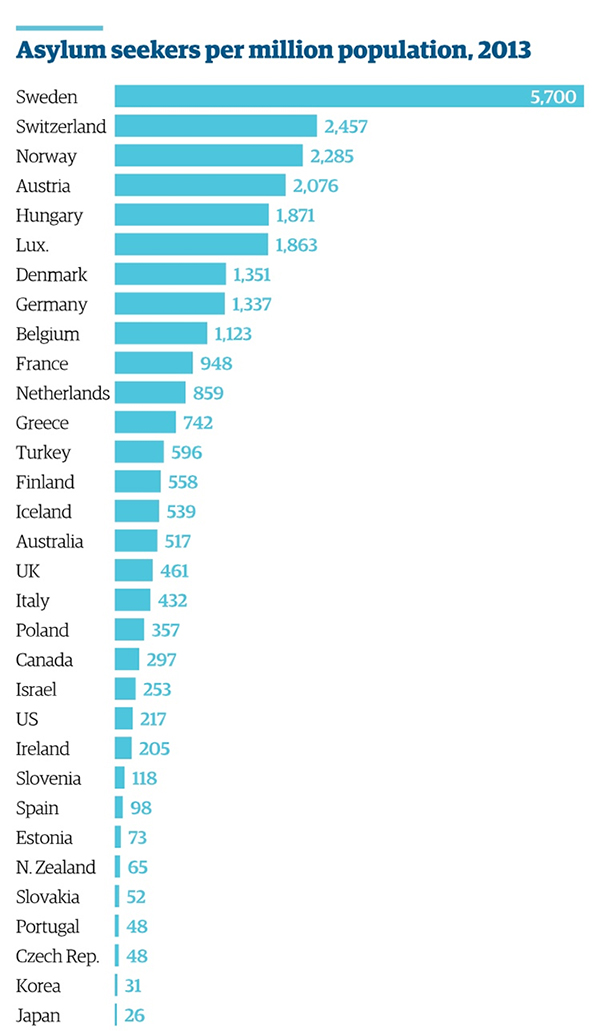 Get the background story on what is happening in Europe:

Muslim "Diversity" Zones in the West - Could This Be Coming to a Street Near You?

Jewish activist Anetta Kahane wants to destroy Europe via non-European immigration

Sweden to increase immigration even further

Femme de la Rue: Sexual Harassment In Belgium - Diversity In Action!

The Extermination of Whites in Europe: "We Are the Last 3 German Children in Our School."

Muslim Brotherhood Infiltrating Europe

The gloves come off in England

Multiculturalism: America's most peaceful and least peaceful states


Here are some of the other comments from the local.se:


Great idea, Reinfeldt! Let's cut down all the forests and pave all the fields so Sweden can house loads more asylum. seekers. And who, precisely, is going to pay for all this? Sweden's economy is struggling already with all the extra strain caused by mass immigration so unless the rich politicians are prepared to put their hands in their own pockets (ha, I can see that happening!), then this has to be one of the most stupid ideas I've heard in a long time!

I have an advice for the SD, keep using Reinfeldt's declaration that "there is plenty of space for more refugees"and pounding the Alliance on that relentlessly, it's a gift, so don't waste it!

"keep using Reinfeldt's declaration"

Or certain statements from former Social Democratic party leader Sahlin, like "It's the Swedes that shall integrate [themselves] into the new Sweden" (my translation).

Freddie Reinfeldt, the failed prime minister who is doing more for the recruitment of new Swedish Democrats than anyone else possibly could.

"I often fly over the Swedish countryside and I would
advise others to do. There are endless fields and forests. There's more
space than you might imagine."

Indeed he does "fly over". He never stops to visit or see for himself.