DARPA Showcases Hummingbird-Shaped Spy Drone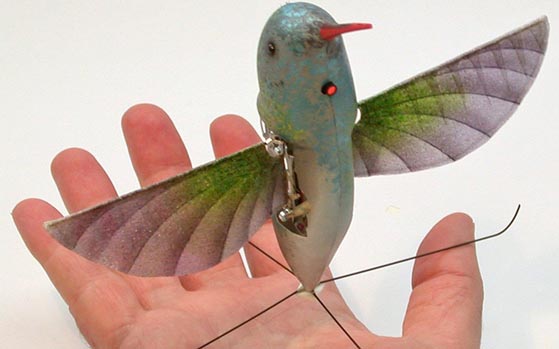 A life-size hummingbird-like unmanned aircraft, named Nano Hummingbird, has been developed by AeroVironment Inc. for the U.S. Defense Advanced Research Projects Agency. The prototype has a wingspan of 16.5 cm and has a body shaped like a real hummingbird.
(AeroVironment Inc./Associated Press)


A project manager has demonstrated a tiny spy plane with flapping wings like a hummingbird.

Matt Keennon of AeroVironment showed off the high-tech device Friday to journalists at company facilities in Simi Valley, Calif.

The aircraft with a 16.5-centimetre wing span can record sights and sounds on a video camera in its belly.

Developers say it can perch on a window ledge and gather intelligence unbeknownst to an enemy.

The craft can hover and move quickly in almost any direction, a capability defence officials want in a small aircraft for intelligence and reconnaissance.

The craft was developed for a U.S. defence agency, but it's not clear if it will ever leave the lab.

It buzzed Keennon's head before landing on his hand during the demonstration.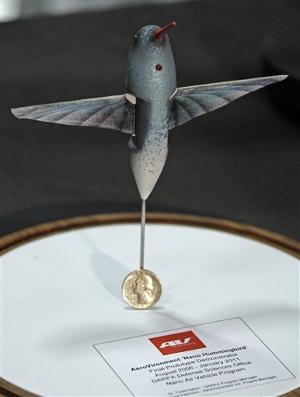 .A tiny, drone aircraft designed to mimic a hummingbird, known as the "nano-hummingbird," is seen with a quarter for scale, during a briefing at the AeroVironment facility in Simi Valley, Calif., Friday, Feb. 25, 2011. With a 6.5-inch wing span, the remote-controlled hummingbird plane weighs less than an AA battery and can fly at speeds of up to 11 mph, propelled only by the flapping of its two wings. It can climb and descend vertically, fly sideways, forward and backward, as well as rotate clockwise and counterclockwise, and hover. AP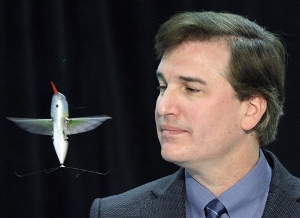 Matt Keennon, program director at AeroVironment, demonstrates a tiny, drone aircraft known as the "nano-hummingbird," during a briefing at the company's facility in Simi Valley, Calif., Friday, Feb. 25, 2011. AP



Article from: cbc.ca


---


AeroVironment's Nano Hummingbird - Without Landing Gear

Video from: YouTube.com