Debauchery at the XXX Olympiad: Record Number of Condoms Will Be Handed Out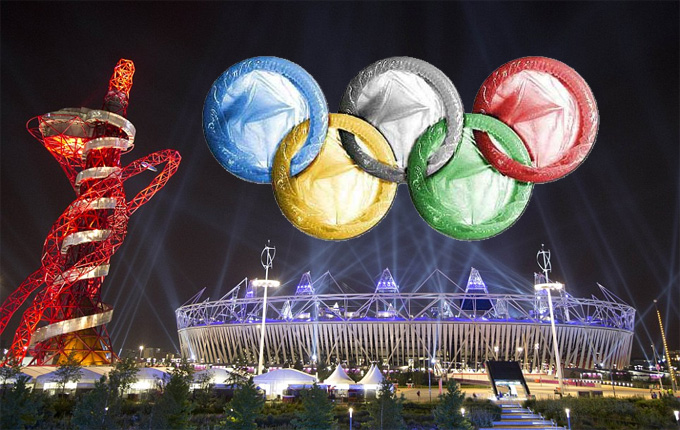 Welcome to the XXX Olympic games ...literally! The Daily Mail and New York Post reports that the organizers of the 2012 games in London will hand out a record 150 000 condoms to athletes in the Olympic village. That works out to about 13 condoms per competitor!

Is it going to be enough?

At Beijin in 2008 they handed out about 100 000, that wasn't enough! Olympian "insiders" have been speking out about the orgy like conditions that seems to exists in "The Village".

Total debauchery.

Oh yes, Olympism is a new religion - a religion of the body - and the Olympic games is the biggest spectacle on earth, the "highest of achievements" of mankind. Is this what Jesuit educated, rumored Freemason and founder of the Olympic games Pierre de Coubertin wanted the The Olympian Class to become?

The sex is just another "extracurricular activity".

There are almost 11 000 "pumped up", very likely "hormone manipulated" (here is another bizarre example), drugged up and doped athletes - with massive amounts of sexual energy - that is encouraged to be released in an area that is a high energy vortex point. The games is a mega occult ritual.

If Rik Clay was correct, the whole Olympic park and village is built on Ley Lines.

Coincidence?

As this excerpt explains:


The Olympics Location and the Ley Lines

The Olympics 2012 site is situated between Leyton and Leytonestone. The "Ley" found in their names originates from the term 'Ley lines'.

Ley lines, or Leys, are alignments of ancient sites stretching across the landscape. Ancient sites or holy places may be situated in a straight line ranging from one or two to several miles in length. A ley may be identified simply by an aligned placing of marker sites, or it might be visible on the ground for all or part of its length by the remnants of an old straight track.

Our ancestors knew that ley lines, earth grids and vortexes were energy sources and centers that were to be considered holy. A "Ley Line" is one a number of lines which form part of an energy grid which cross the Earth. The energy - metaphysical in nature. So is there any documentary proof that 'Ley lines' cross near Leyton and Leytonestone? You bet there is...

The bender site, and the old yew tree in it, were the short-lived heart of Leytonstonia, decorated with a kerb-henge, a replica of Stonehenge made with kerbstones. (Some talked of the significance of the names Leyton and Leytonstone, of their relation to ley lines more generally, as though this might explain the energy of the protest sites. A brickhenge was made at Clarement Road, halfway between Leyton and Leytonstone.) The Olympics site lies in an area synonymous with mystical - metaphysical - earth energy.

Is this yet another coincidence or part of a plan for the 2012 Olympics which was put into motion way before the event was officially finalised?

Excerpt from: whale.to - Referencing Rik Clay's research


I wonder who or should I say what, receives or feeds on this energy.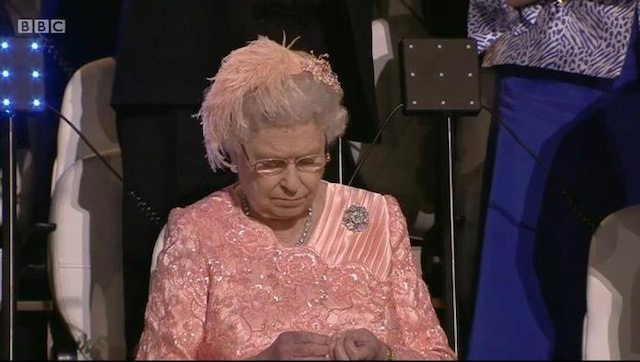 Queen Elizabeth II of England was shown on the broadcast picking her nails as the delegation of the host country took the field last among the parade of nations as is the custom during the opening ceremony of the Olympics.



Listen to Red Ice Radio

Various Guests - Hour 1 & 2 - 2012 Olympics Special



London Olympics: Record Number of Condoms Will Be Handed Out



From: atlantablackstar.com

Wonder what the Olympics athletes are doing when they are not strenuously competing in sport?

Well, this might give you a clue: We have gotten word that the London Olympic village has stocked a record number of condom for the London summer spectacle, a total of 150,000—with 10,500 athletes at the games, it works out to 15 per competitor.

There were just 100,000 condoms stocked in Beijing, meaning the London Olympic committee felt a need to up the total by 50 percent.

The athletes have suggested that there is much sexual activity in the Olympic village—all those competitive juices and very pretty people, all squeezed together in a cozy little village, leading to a Las Vegas-like feeling of whatever happens in the Olympic village…

U.S. women's soccer goalkeeper Hope Solo told the Daily Mirror: "There's a lot of sex going on at the London Olympics. I've seen people having sex out in the open, getting down and dirty on grass between buildings."

She added: "I may have snuck a celebrity into my Beijing room without anybody knowing and snuck him back out. But that's my Olympic secret."
Earlier this month an anonymous U.S. athlete described partying her "butt off" when she took part in the Games, amid wave of promiscuity as super-fit athletes paired off.

"I was feeling super-guilty for cheating on my boyfriend," she told the New York Post. "And a fellow athlete said, "Why? Everyone hooked up last night.'"'

A tell-all expose published earlier this year echoed the anonymous athlete's experiences. That book, the authors of which also remain unknown, lifted the lid on the secrets of the Olympic Village.

It claimed competitors smuggled in drugs and filled water bottles with liquor to get it into the drugs and alcohol free zone. The author wrote of bed-hopping and partying, adding: "No matter what your type, the Olympic Village can cater to it, providing the best physical examples on earth."
Having completed competition, the athletes need to do something else to burn off their boundless energy.

"Like thoroughbred horses which haven't had a run for a while, they get frisky."The athletes stay in a tight-knit community where what happens in the Village stays in the Village, the book claims.

It is a promise that is easily kept, given the high-security, walled off community they spend the duration of the Games living in, protected from prying eyes.

Competitors sexual appetites seem to have soared since Seoul 1988, when just 8,500 condoms were made available.

For Barcelona in 1992, that number leapt up to 50,000. In the 2000 Sydney Olympics, organizers had to order 20,000 more after the initial allocation of 70,000 ran out.

However, the bed hopping may be slightly less frenetic with the London Games, since this year athletes' partners will also be allowed into the Olympic Village for the first time.

Source: atlantablackstar.com