Decoding Mona Lisa: Have archaeologists found the face behind the smile?
Mona Lisa, painted by Leonardo da Vinci, is likely based on Lisa del Giocondo, who lived in Florence at the turn of the 16th century. On Friday, archaeologists cut into the del Giocondo family crypt in hopes of confirming the identity of the Mona Lisa's model.

The most mysterious smile in art history has spawned endless speculation. Who was the model? Why is she smiling? What does the background mean? Whole books have been devoted to musing about hidden messages in the painting, including asking whether the model was actually a man, or had bad teeth, or maybe was Leonardo da Vinci himself.

While speculation continues, most art historians have now coalesced around the idea that the model was a young woman named Lisa del Giocondo, née Lisa Gherardini. "Mona" is a contraction from "madonna," which in Italian means "my lady."

Are the historical Lisa and the subject of the Mona Lisa one and the same? Archaeologist and art historian Silvano Vinceti is determined to answer the question for once and for all, and he's willing to cut into centuries-closed tombs to do it.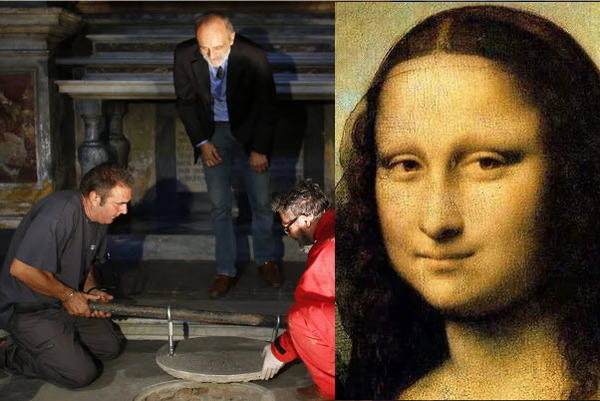 Silvano Vinceti (top) looks on as researchers open the tomb of Florentine silk merchant Francesco del Giocondo at the Santissima Annunziata basilica in Florence, August 9. Researchers delved into the centuries-old Florentine tomb on Friday, looking for remains that could lead them to the true identity of the woman whose wry smile Leonardo da Vinci immortalized in his Mona Lisa (right).


In 1495, at the age of 15, young Lisa Gherardini became the third wife of a prosperous silk and cloth merchant, Francesco di Bartolomeo di Zanobi del Giocondo. Francesco already had one son, Bartolomeo, and together Lisa and Francesco had five more: Piero, Camilla, Andrea, Giocondo, and Marietta. After Francesco's death, Lisa retired into the Saint Ursula convent in Florence, where she is believed to have been buried.

The Mona Lisa was commissioned between 1503 and 1506, say researchers at the Louvre, when da Vinci was between patrons and thus perhaps looking for private work. He did not finish it – and was not paid for it – and he ultimately took the painting with him when he moved to France, a decade later. The painting entered the collection of King Francis I, da Vinci's final patron, and was one of the original pieces of art in the Louvre collection.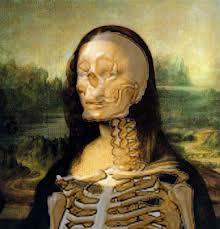 Last year, Mr. Vinceti's team dug up crypts under the basement of the convent believed to be Lisa del Giocondo's final resting place. "After 1500, only two women were buried here: Mona Lisa Gherardini, in 1542, and another noblewoman, Maria del Riccio," said a statement from researchers. Other historians challenge that, pointing out that hundreds of women were buried at the convent, and existing records are sparse.

Vinceti found the remains of eight women in the crypt, three of which were sent for carbon dating.

[...]

Read the full article at: csmonitor.com




---