Did Mossad kill Arafat with Radioactive Poison on his Toothbrush?
Israeli operatives may have given Palestinian leader lethal radioactive dose

At first they thought it must have been something he'd eaten. About two hours after having supper, at 11.30pm on the evening of October 11, 2004, Yasser Arafat felt sick.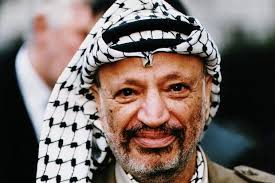 The 75-year-old chairman of the Palestine Liberation Organisation vomited twice, then felt a little better.

But when he awoke the next morning, he felt worse. A doctor diagnosed viral gastroenteritis, and the Palestinian leader was given medicine.

By that evening he seemed to be responding well, and a report later stated he 'continued with his usual activities' at his compound in Ramallah on the West Bank.

Over the next few days Arafat's condition stabilised, but did not improve. Medical staff were baffled, and it was only when Tunisian doctors were summoned, nearly two weeks after he fell ill, that the real cause of Arafat's illness was diagnosed: thrombocytopenia — a reduced number of platelets in the blood.

Platelets are a key part of the clotting system, and a low count can lead to spontaneous internal bleeding.

Bone marrow samples were taken and, as he deteriorated further, Arafat was flown to the Percy Military Hospital in Paris.

On November 3, he fell into a coma, and in the early hours of November 11 he died of internal bleeding in the brain.

For nearly a decade, the true cause of death of a man regarded by some as the world's most evil terrorist has remained a mystery, amid accusations from his family and supporters that he was poisoned.

This week, however, the world came a step closer to finding out the truth.

Two years ago, Arafat's widow and daughter demanded a French judicial inquiry into his death. Since then Swiss scientists have investigated his belongings for traces of poison.

And they have announced the results in the medical journal The Lancet: they found traces of a highly toxic radioactive material, polonium-210, on his headwear, underpants and toothbrush.

In the article, coyly titled 'Improving forensic investigation for polonium poisoning', the team say they took samples of blood, sweat and urine from Arafat's clothes and found they contained significantly higher than expected levels of polonium-210.

[...]

Read the full article at: lewrockwell.com




---
Doctors watch over Yasser Arafat (2004)
Palestinian leader Yasser Arafat has spent the night watched over by medical teams and senior aides after serious concerns for his health.

Leading Palestinians were summoned to the bedside of Mr Arafat, 75, and his wife Suha is expected to arrive later on Thursday from her home in Paris.

For over a week there have been reports that he was suffering stomach pains.

Israel says Mr Arafat can go anywhere for treatment, but has not promised to let him back to Ramallah if he leaves.

A top official told Reuters that if he leaves the West Bank, the question of whether he could return was "a separate issue after he recuperates".

Israel's policy has been that Mr Arafat is free to leave the compound where he is surrounded by Israeli troops, but might not be allowed to return.

Tunisian and Palestinian doctors were examining Mr Arafat overnight.

Medical teams from Jordan and Egypt were said to be on their way.

Mr Arafat's long-time personal doctor, Jordanian neurologist Ashraf Kurdi, said he had been summoned urgently.

"I am taking a team to assess his condition and do whatever is possible that can be done. They refused to tell me what his condition was."

One cabinet minister, who asked not be identified, described Mr Arafat as "very, very sick".

There were several reports that he had lost consciousness for a short while - but these were quickly denied by his staff.

Handover rumours

A crowd gathered outside his compound, including dozens of journalists, and a series of top Palestinian officials arrived.

There were reports that Mr Arafat had appointed a three-man committee of Prime Minister Ahmed Qurei, former premier Mahmoud Abbas and Parliament Speaker Salim al-Zaanoun, to take over while he recovered.

But these were denied by a senior Arafat aide.

Doctors examined the Palestinian leader earlier this week after he complained of stomach pains, but tests reportedly found no signs of major illness. He is said to have been suffering from a bout of flu as well as a gallstone, which is thought to be easily treatable.

Despite being sidelined by Israel and the United States and the focus for widespread Palestinian anger at the corruption of the authority he leads, Mr Arafat is the most popular Palestinian leader and the symbol of their national struggle.
Source