Document Reveals NSA Spied On Porn Habits As Part Of Plan To Discredit 'Radicalizers'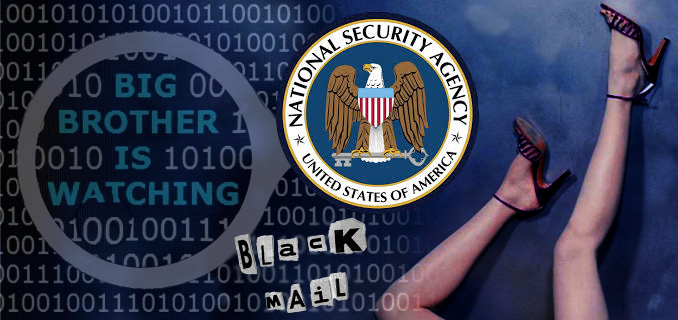 It's been revealed through newly released classified documents that the NSA has been monitoring the online porn habits of 'radicalizers'.

They're not, as one might imagine, targeting illegalities or criminal acts (such as child pornography or abuse) - they're snooping on adult individuals' ALLEGED online sexual behaviors so as to discredit them.

Basically such accusations float around in a pool of libel, slander, and defamation of character, depending on what the NSA can actually prove.

The harvested information may in fact be truths about the target's sexual proclivities, but should that information be collected and used by a government agency for political gain and information warfare?
No doubt such 'victories' will be used as a justification for the so-called 'war on terror'.

This calls to mind blackmail and honey traps used by governments, criminal organizations, and intelligence agencies to extort and force people under control.

READ: Love, honeypots and recruitment

Such undermining by the state and military industrial complex is not new. It was reported by the Washington Post that in 1990:

Covert operators kicked around the idea of creating a computer-faked videotape of Saddam Hussein crying or showing other such manly weaknesses, or in some sexually compromising situation. The nascent plan was for the tapes to be flooded into Iraq and the Arab world.

The tape war never proceeded, killed, participants say, by bureaucratic fights over jurisdiction, skepticism over the technology, and concerns raised by Arab coalition partners.

We're obviously way past the point where jurisdiction, technological limits, or concerns stop the NSA.

Red Ice Radio guests have revealed the many ways these manipulations and traps ensnare and undermine all the way up to the highest halls of power. (See below)

More on the NSA snooping from Common Dreams...

---
NSA's Plan to Use Porn Habits to Discredit 'Radicalizers'
By Jon Queally | Common Dreams

By monitoring online activity of suspected terrorists and foreign agitators, agency reveals lengths it will go

New documents obtained by NSA whistleblower Edward Snowden and leaked to journalist Glenn Greenwald and the Huffington Post show that the spy agency made plans to use the online activities, including visits to pornographic sites and other habits, of so-called Muslim "radicalizers" in order to discredit their standing.

According to the reporting:

The National Security Agency has been gathering records of online sexual activity and evidence of visits to pornographic websites as part of a proposed plan to harm the reputations of those whom the agency believes are radicalizing others through incendiary speeches, according to a top-secret NSA document. The document, provided by NSA whistleblower Edward Snowden, identifies six targets, all Muslims, as "exemplars" of how "personal vulnerabilities" can be learned through electronic surveillance, and then exploited to undermine a target's credibility, reputation and authority.


"The NSA's operation is eerily similar to the FBI's operations under J. Edgar Hoover in the 1960s where the bureau used wiretapping to discover vulnerabilities, such as sexual activity, to 'neutralize' their targets." –James Bamford, journalist

[...]

"It's important to remember that the NSA's surveillance activities are anything but narrowly focused -- the agency is collecting massive amounts of sensitive information about virtually everyone," Jameel Jaffer, deputy legal director at the ACLUE, told the HuffPo, warning that abuses of a program like this were easy to see.

"Wherever you are, the NSA's databases store information about your political views, your medical history, your intimate relationships and your activities online," he said. "The NSA says this personal information won't be abused, but these documents show that the NSA probably defines 'abuse' very narrowly."

Though all documented targets of this program appeared to be outside the United States, at least one was indicated to be a U.S. national. And the idea that such programs will only be used to target suspected terrorists runs into the problematic history of government surveillance on U.S. dissidents, political activists, and labor organizers.

Read the full article at: commondreams.org




---
READ:
NSA Tracks Porn to Discredit Activists … and to Blackmail Critics?
---
Tune into Red Ice Radio:
Phil Stanford - White House Call Girl
James Bamford - NSA, U.S. Cyber Command & the Global Brave New World of Surveillance
Joseph P. Farrell - Babylon's Banksters, Global Financial Blackmail, Geo Warfare & The End Game
Jon Rappoport - Hour 1 - The Surveillance State & War on the Individual
Ole Dammegård - Hour 1 - Coup d'etat in Slow Motion: The Assassination of Olof Palme
H.P. Albarelli Jr. - Germ Warfare, CIA, LSD and the Murder of Dr. Frank Olson
Douglas Dietrich - Hour 1 - Occultism & Satanism in the U.S. Military
Russ Baker - Hour 1 - Michael Hastings, Libya Repeating in Syria & JFK