Dolly the Sheep Creator Knighted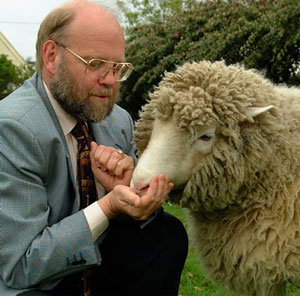 Professor Ian Wilmut, the scientist who created Dolly the sheep through genetic cloning, has been knighted in the New Year Honours list.
Prof Wilmut, 63, said he was "surprised and delighted" by his knighthood and stressed that it was a recognition to be shared by his research colleagues.

As a boy, his early ambition was to go to sea - either in the Royal Navy or the merchant service.

But colour-blindness foiled his plan and led instead to a career in science.

Scotland's best known scientist, Prof Wilmut became interested in farming and began working on farms at weekends at the age of 14.

This led him to study agriculture at Nottingham University in anticipation of becoming a dairy farmer until a summer holiday working in a science laboratory led to a lifelong interest in embryology.

'Revolutionising biology'
Prof Wilmut and his team at the Roslin Institute, near Edinburgh, created Dolly in 1996 and unveiled her publicly early in 1997.

After she became a worldwide sensation, Prof Wilmut told the US Academy of Achievement website: "The fact that the whole animal comes from a single cell is really an extraordinary thing, and it's fascinating to try to understand it more.

"But back then it was simply wanting to understand how to improve milk production, how to improve fertility, and the collection of milk."

Last month, Prof Wilmut announced that he was abandoning the cloning of human embryos in stem cell research in favour of a new technique developed in Japan.

The citation for his knighthood credits Prof Wilmut with "revolutionising" biology through the cloning technique which underpins the science of stem cell technology.

The citation also says he has shown an "outstanding" commitment to bringing the benefits of basic science to medical treatment.

His role at the Roslin Institute in cloning Dolly the sheep, the world's first clone from an adult cell, led to an OBE in 1999 and he has been elected a fellow of five scientific academies worldwide.

Prof Wilmut now heads the Scottish Centre for Regenerative Medicine at Edinburgh University, which brings together experts from the Institute for Stem Cell Research and scientists and clinicians from Edinburgh University's medical school.

Article from: http://news.bbc.co.uk/2/hi/uk_news/7163587.stm



Honour for Dolly sheep scientist



The scientist who led the team that created Dolly the sheep has received a knighthood in the New Year Honours.
Professor Ian Wilmut and researchers from the Roslin Institute captured the world's attention in 1997 when they unveiled the first cloned mammal.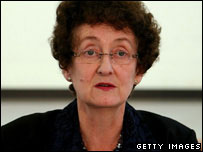 Another scientist to be honoured is Debby Reynolds, the UK government's former chief veterinary officer.

Dr Reynolds, who retired in November after four years in the post, has been made a Companion of the Order of Bath.

Her final 12 months as chief vet saw her head the government's response to a series of outbreaks, including bird flu, bluetongue and foot-and-mouth, across farms in the south-eastern corner of England.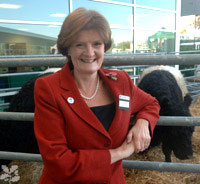 The National Trust's director general, Fiona Reynolds, has been made a dame for services to conservation.

The Trust is one of the UK's largest landowners and is responsible for many of the nation's historical and natural landmarks.

Mike Ferguson, Professor of Molecular Parasitology at the University of Dundee, has been made a Commander of the Order of the British Empire (CBE).

The honour is in recognition of his work to try to find a vaccine for currently incurable insect-transmitted tropical diseases, such as African sleeping sickness.

Professor Martyn Poliakoff of Nottingham University's Clean Technology Group has also been made a CBE.

The Royal Society fellow's current research includes looking at how green chemistry can deliver environmental benefits.

And in a year that climate change has dominated the headlines, Dr Godfrey Jenkins, head of the UK Met Office's Headley Centre's Climate Change Programme, has become an Officer of the Order of the British Empire (OBE).

The birth of cloning
The birth of Dolly more than a decade ago marked the beginning of a new era for science and made Professor Wilmut an internationally recognized figure.

The humble Finn Dorset sheep turned on its head the widely held belief that mammalian cloning from adult cells was a scientific impossibility.

The Edinburgh-based team created the cloned sheep (named after the singer Dolly Parton) by taking a cell from the udder of the mother sheep, and adding its DNA to an unfertilized egg that had its own DNA removed.

The fused cells were then grown in a laboratory before being implanted into the uterus of a surrogate mother sheep.

News of the success prompted an international debate about the ethics of the technique, with a number of groups voicing fears that it paved the way for the cloning of humans.

It was not the first time Professor Wilmut, an embryologist, had pushed the boundaries of science.

In 1973, while at the University of Cambridge, his research led to the birth of the first calf to be produced from a frozen embryo, which he called Frosty.

Since the arrival of Dolly, 13 mammal species have been cloned using a similar technique used by the team led by Professor Wilmut.

He now is director of the Scottish Centre for Regenerative Medicine at Edinburgh University.

His knighthood has been awarded for services to science.

Article from: http://news.bbc.co.uk/1/hi/sci/tech/7162953.stm