Don't Worry Radiation From Fukushima is Harmless
Researchers from the Center of Excellence for Climate System Science (CECSS) have concluded that the radioactive plume from the meltdown at Fukushima will not reach the US until 2014. They also claim that the levels of radiation will be harmless.

On the board of directors of the CECSS is a member of the Club of Rome. This is the same Elite group that stated in the 1970s that man-made climate change must be created and drilled into the general public's psyche as a social control mechanism.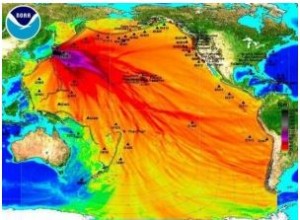 The CECSS have been tracking the radiation and measuring the time it takes to travel across the globe. According to their computer models, it would take a decade to travel across the world's oceans.

Erik van Sebille, co-author of the study said: "Observers on the west coast of the United States will be able to see a measurable increase in radioactive material three years after the event. However, the people on those coastlines should not be concerned as the concentration of radioactive material quickly drops below World Health Organization safety levels as soon as it leaves Japanese waters."

The majority of the radioactive material is expected to remain in the North Pacific and will not cross the "south of the Equator in the first decade. Eventually over a number of decades, a measurable but otherwise harmless signature of the radiation will spread into other ocean basins, particularly the Indian and South Pacific oceans."

[...]

Read the full article at: nsnbc.me