Dutch Gov't Collapses over Afghan Mission
Prime Minister Jan Peter Balkenende said Sunday Dutch troops will begin leaving southern Afghanistan in August, since his caretaker government has no authority to accept a NATO request to stay on.

Speaking a day after his coalition government collapsed over the issue, Balkenende said the Netherlands will end its role in Uruzgan province, where 21 Dutch soldiers have been killed since the mission was first deployed in 2006.

"Our task as the lead nation ends in August this year," he said on Dutch television.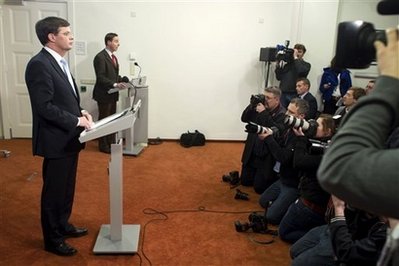 Netherlands' Prime Minister Jan Peter Balkenende, front left, talks to the media to announce that the second largest party in his three-party alliance is quitting, in The Hague, Netherlands, Saturday, Feb. 20, 2010. The Dutch coalition government collapsed Saturday over irreconcilable differences on whether to extend the Netherlands' military mission in Afghanistan. (AP Photo/ Evert-Jan Daniels)


A marathon cabinet meeting that broke up before dawn Saturday ended with the walkout of the second largest party in the government, Labor, which accused the dominant Christian Democratic Alliance of reneging on a 2007 agreement to bring the troops home this year.

On Monday, the premier formally will advise Queen Beatrix that he no longer commands a majority in parliament and will hand in the resignations of the six Labor Party ministers. That will begin the process likely to lead to an election in May, one year ahead of schedule.

The impending drawdown was clearly bitter for Balkenende, who argued forcefully to remain in Uruzgan on a scaled-down training mission for Afghan security forces. He repeated Sunday that it would be valueless to conduct such training missions outside Uruzgan.

Under the Dutch system, a caretaker cabinet cannot take actions that lack consensus, and therefore Balkenende said he was bound by an earlier decision to relinquish the command position in Uruzgan as of Aug. 1.
The pullout will take up to three months, and the last of its soldiers will be gone from the volatile province by December.

Earlier this month, NATO Secretary General Anders Fogh Rasmussen sent a letter to the Dutch government asking it to consider an extension of its mission to prepare the Afghan army and police to take responsibility for the province.

Balkenende charged that Labor went back on its agreement to at least examine several options for staying in Afghanistan.

The parliament was expected to hold another debate on Afghanistan shortly, taking up the question of whether the Air Force could deploy F-16s, helicopters and headquarters staff and whether development workers and even diplomats could be stationed outside Kabul, the capital.
But the current mood in parliament is hardly amenable to a continued presence there.

In the debate last Thursday, a clear majority of the 150-member house was in favor of pulling out, with the split laid bare between Balkenende and his finance minister, Labor Party leader Wouter Bos.

Article from: News.Yahoo.com