Dzhokhar's boat 'confession' the most unbelievable part yet of Boston psyop
Remember the notes that accompanied the anthrax deliveries right after 9/11? They said things like, "Allah is great!" "Death to Israel," "Death to America!" and "9-11-01: This is next."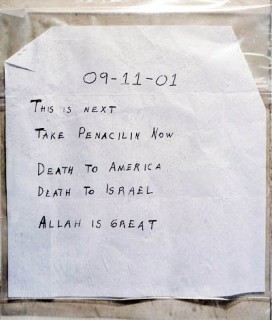 In other words, THE MUSLIMS DID IT: the same ones who had so handily defeated the world's greatest military machine on Sept. 11, 2001. And they did it because they hate us and our freedoms … the usual. They apparently really wanted to rub salt in the wounds of a traumatized America after the largest supposed terrorist attack ever on U.S. soil. And it worked; people were suitably freaked out.

The problem was that the Muslims didn't carry out the anthrax attacks, which was later proven by the fact that the anthrax was highly weaponized and was manufactured at a U.S. military facility. The whole thing was later pinned on American scientist Bruce Edward Ivins after he had allegedly committed suicide. We also learned that Bush, Cheney and other key administration officials were put on the anthrax-preventing antibiotic Cipro in early September 2001, long before the anthrax attacks happened.

Funny they thought of that precaution but didn't think of evacuating the Pentagon when a plane was supposedly heading right for it on 9/11.

So Muslims didn't do the anthrax, just as the evidence clearly shows they didn't do 9/11.

Now we have an oh-so-convenient "confession" by Dzhokhar Tsarnaev to handily explain his motives for the Boston Marathon bombing. Apparently, Dzhokhar wrote a kind of claim of responsibility on the inside of the boat where he was hiding, using a marker he "found" (no paper was handy, so he wrote it on the cabin wall as he bled from multiple gunshot wounds).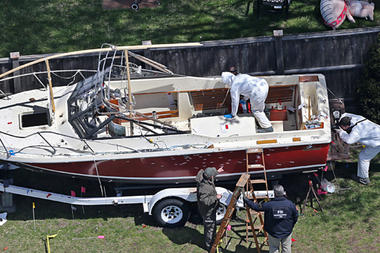 The note has all the key Muslims-are-to-blame talking points. Here are some of the things, paraphrased, that Dzhokhar is supposed to have written:


When you attack one Muslim, you attack all Muslims
We're getting you back for killing Muslims in Iraq and Afghanistan
The innocent victims in Boston are collateral damage just as Muslims are in U.S. wars
I don't mourn my brother because he is a martyr in paradise, where I expect to be soon. (How did he know for sure his brother was dead?)

We learned of this note in a CBS News report on May 16 during which Charlie Rose and his grinning sidekick Norah O'Donnell speak with "senior correspondent" John Miller, a former FBI assistant director. This CBS "scoop" came a full month after the bombing because, Miller suggests, the note was "…the thing that investigators never found anywhere else."

Ahh … let me get this straight. They didn't examine the boat where Dzhokhar spent his last several hours of freedom for possible evidence at the time? Really? And when they did, they magically came up with the familiar "death to America" justification that so often accompanies these false flag events.

The ironic ending to the report comes when O'Donnell mentions that the note itself ended up being riddled with hundreds of bullet holes, which Miller confirms, saying: "The note has those holes in it."

No kidding.

Here are the four major elements of this false flag event and how the official story fails to hold up in each case:

The exercise

The most obvious sign that Boston was a false flag operation is the bomb "exercise" that was going on at the exact same location and time as the actual bombing. This has become a tell-tale sign of false flags, particularly since 9/11 when numerous exercises were taking place that morning that simulated the very thing that happened.

The most absurd example is the 7/7 London bombings when a simulation of the bombing of three underground stations was going on as those same stations were actually being bombed (not to mention a real bus bomb that was also reflected in the exercise).

The pattern was repeated with the mass shooting in Norway in 2011, the Aurora movie theater shooting in July 2012, and the Sandy Hook school shooting in December 2012.

[...]

Read the full article at: veteranstoday.com




---
CBS News reports Boston bombing suspect wrote message in boat