Ed Miliband: "As a friend of Israel and a Jew, I'm a proud member of this community" & "The Jewish Manifesto"
Editor's comment: With just a few days to go to the British election, here are a few tidbits that the English voter might want to know about concerning the leader of the Labour party, Ed Miliband.

Labour Leader Ed Miliband on the Board of Deputies' Jewish Manifesto



By Ed Miliband, Leader of the Opposition in the UK. (Or should that be the "controlled opposition"?)

In these final few days before voting, it is right for the Jewish community, like so many other communities, to consider what an incoming Labour Government offers.

I have spent precious time with members of the Jewish community over the past five years. I have visited synagogues and schools; charities and student organisations, and I have been moved time and again by the energy, warmth and profound kindness of those I have met.

In these past years as Leader of the Opposition, I have learnt a lot from you. And I hope you have found me willing to listen and learn.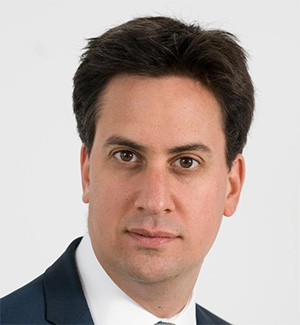 I quickly learnt that for many of those I have had the privilege to meet, you expect politicians' good intentions to be backed up by firm actions. So I would like to take this opportunity to make three firm commitments if I am elected prime minister on 7 May.

Just over a year ago, I stood on the hilltop of Yad Vashem. It was one of my first official visits as Leader of the Opposition.

As you probably know, the visit was not only ceremonial – it was also deeply personal and very emotional at times. At the Nachshonim Kibbutz, where I had picked oranges as a child, I enjoyed a wonderful reunion with Sarah Ben Zvi, a treasured first cousin of my mother. I then had Shabbat dinner with my extended family in Tel Aviv.

I paid my respects at the Wailing Wall, and visited Yad Vashem, where after seeing the Hall of Names, I was given more details of the death of my grandfather, who was murdered by the Nazis in occupied Europe 70 years ago, along with 60 members of my wider family. Lighting a Yarzheit candle to honour his death reinforced my determination to fight the resurgence of anti-Semitism wherever it rears its ugly head.

So my first commitment to you is that a new Labour Government will take every opportunity to ensure that no expressions of anti-Semitism will be tolerated. There can be no no-go areas in our struggle against anti-Semitism. Our Government will strengthen hate crime laws, so crimes motivated by anti- Semitic hate are clearly marked on the criminal records of perpetrators and are an aggravating factor in prosecutions.

We will review police and Crown Prosecution Service guidance to ensure anti-Semitism and other hate crimes on social media are adequately covered. We will ensure central Government funding is allocated to protect the security of Jewish faith schools.

Read the rest of the statements by Ed Miliband at jewishnews.co.uk


Editor's comment: Isn't it strange that a potential future prime minister of Britain can openly declare his allegiance to a foreign country, and no one raise an eye brow. Yet if an English person declares their allegiance to the Anglo Saxons and the Celts - within his own country - you know all hell would break lose. They would instantly be seen as "haters" and "racists." Isn't it strange? Who is it again that can't have any ethnic interests?

Speaking of double standards and lies, the alt. "truther" Russell brand wants you to believe that Ed Miliband and his Labour party will make evertyhing better in Britain. It's amazing how few pro establishment rebels have outed this entertainer for the actor he is. See the video of Brand endorsing Miliband here: Fabian Socialists Agree: The UK Labour Government is Going to "Fix It All" (It's the Trews ... We pomis)

Another important video about the power of the Israel lobby in United Kingdom - Who Runs Britain?