Elephants Never Forget A Voice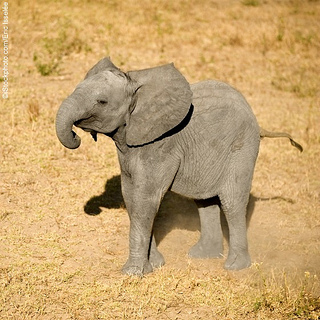 According to a new study, wild elephants are discerning listeners who can differentiate between various human languages, genders, ages, and more. Such surprising skills continue to marvel researchers.

Not all the intellectual surprises are on the large animal front. Research has shown that crows are extremely intelligent, some dogs recognize over a thousand words and have the intellect of a toddler, and prairie dogs have their own language used to describe human to each other.

More on the perceptive pachyderms from Chron.com:


Dr. Seuss had it right: Horton really does hear a Who. Wild elephants can distinguish between human languages, and they can tell whether a voice comes from a man, woman or boy, a new study says.

That's what researchers found when they played recordings of people for elephants in Kenya. Scientists say this is an advanced thinking skill that other animals haven't shown. It lets elephants figure out who is a threat and who isn't.

The result shows that while humans are studying elephants, the clever animals are also studying people and drawing on their famed powers of memory, said study author Karen McComb.

"Basically they have developed this very rich knowledge of the humans that they share their habitat with," said McComb , a professor of animal behavior and cognition at the University of Sussex in England.

"Memory is key. They must build up that knowledge somehow."


Read more at: chron.com

Image: flickr/gregstafford