Encrypted email Lavabit used by Snowden shuts to avoid 'complicity in crimes against Americans'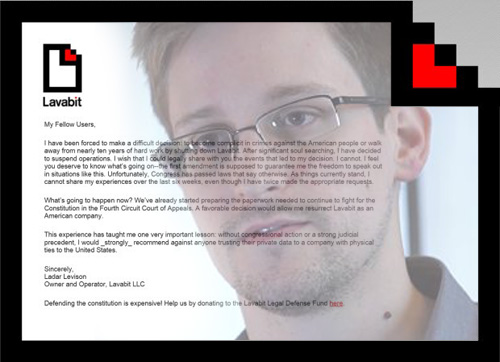 The highly encrypted email service reportedly used by NSA leaker Edward Snowden has gone offline - and its administrator claims the company is legally barred from explaining why.

On Thursday, the homepage of Lavabit.com was changed to a letter from the company's owner announcing that the site's operations have ceased following a six-week long ordeal that has prompted the company to take legal action in the Fourth Circuit Court of Appeals.

Now in the midst of an escalating fight from the federal government aimed at cracking down on encrypted communications, one of the last free and secure services has thrown in the towel under mysterious circumstances.

"I have been forced to make a difficult decision: to become complicit in crimes against the American people or walk away from nearly ten years of hard work by shutting down Lavabit. After significant soul searching, I have decided to suspend operations," owner and operator Ladar Levison of Dallas, Texas wrote in the statement. "I wish that I could legally share with you the events that led to my decision. I cannot."

"I feel you deserve to know what's going on--the First Amendment is supposed to guarantee me the freedom to speak out in situations like this. Unfortunately, Congress has passed laws that say otherwise," wrote Levison. "As things currently stand, I cannot share my experiences over the last six weeks, even though I have twice made the appropriate requests."

Levison's statement comes two months after Snowden - a former analyst at intelligence contractor Booz Allen Hamilton - revealed himself to be the source of leaked NSA documents disclosing vast surveillance programs operated by the United States government. A month later, the Global Post published an article in which a Lavabit.com email address thought to be registered to Snowden was revealed.

The Global Post wrote on July 12 that the Sheremetyevo Airport press conference hosted by Snowden later that day was announced to human rights groups under the email address "edsnowden@lavabit.com" and signed by "Edward Joseph Snowden." Washington Post foreign affairs blogger Max Fisher and Guardian journalist Glenn Greenwald have both since reported that Lavabit is indeed Snowden's email provider.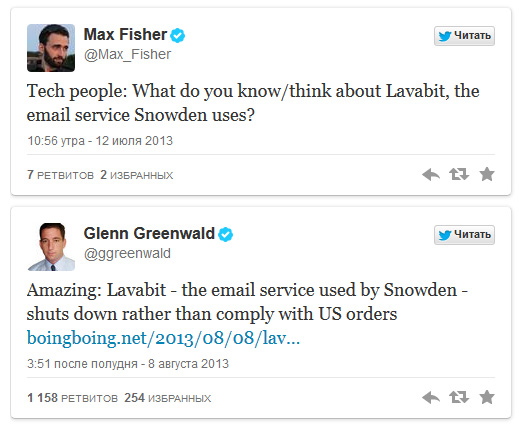 [...]

"Lavabit believes that a civil society depends on the open, free and private flow of ideas. The type of monitoring promoted by the PATRIOT Act restricts that flow of ideas because it intimidates those afraid of retaliation. To counteract this chilling effect, Lavabit developed its secure e-mail platform. We feel e-mail has evolved into a critical channel for the communication of ideas in a healthy democracy. It's precisely because of e-mail's importance that we strive so hard to protect private e-mails from eavesdropping."

Read the full article at: rt.com





---
Tune into Red Ice Radio:
James Bamford - NSA, U.S. Cyber Command & the Global Brave New World of Surveillance
Julia & BJ Davis - Hour 1 & 2 - Top Priority: The Terror Within
Dan Johnson - Hour 1 - People Against the National Defense Authorization Act
Patrick Henningsen - Hour 1 - Syria, Snowden, NSA & the Whistleblower Circus
Jon Rappoport - Hour 1 - The Surveillance State & War on the Individual
Tom Secker - Hour 1 - 7/7, State-sponsored Terrorism & Predictive Programming