EU Wants to Be Rid of Pakistani Refugee for Criticizing Islam
He speaks out against Islam.

---


Spain to Deport Pakistani Refugee for Criticizing Islam



By Soeren Kern | Gatestone Institute


"Okay, you Muslims, use violence, but we will continue to make films. One day, one of us will lose." — Imran Firasat.

Firasat argued that the expression of his views about Islam fall within the constitutional rights of free speech.

Two dissenting judges signed a statement in which they ask whether the source of the danger to national security is in the actions of Firasat or in the reactions of Islamic fundamentalists.

The Spanish Supreme Court has ruled that a political refugee should be deported because his criticism of Islam poses "a danger to the security of Spain."

The May 30 ruling, which upholds an earlier decision by a lower court to revoke the refugee status of a Pakistani ex-Muslim named Imran Firasat, showcases how the fear of Muslim rage continues to threaten the exercise of free speech in Europe.

Firasat obtained political asylum in Spain in October 2006 because of death threats against him in both Pakistan and Indonesia for leaving the Islamic faith and marrying a non-Muslim.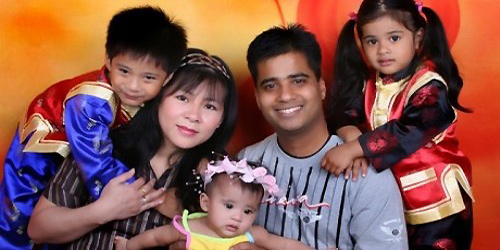 Imran Firasat and family



Spanish authorities, however, took measures to deport Firasat in December 2012, after he released a one-hour amateur film entitled, "The Innocent Prophet: The Life of Mohammed from a Different Point of View." The movie, which was posted on YouTube, purports to raise awareness of the dangers of Islam to Western Civilization.

The film shows images of the Muslim terrorist attacks on the World Trade Center in New York, on double-decker buses in London and on commuter trains in Madrid. The movie, which features many passages from the Koran that threaten violence against non-Muslims, promises to answer the question: "Was Mohammed an inspired prophet of God, or was he a madman driven by his own demons, thus producing a religion of violence and tyranny?"

Firasat, who runs a website called MundoSinIslam.com (A World Without Islam), says he was inspired by another amateur film, "The Innocence of Muslims," which portrayed the Islamic Prophet Mohammed as a womanizer and a pedophile. Released in September 2012, the movie triggered a wave of riots across Europe and the Middle East that resulted in the deaths of more than 30 people.

At the time, the Obama Administration falsely alleged that the film was responsible for the death of the American ambassador to Libya, Christopher Stevens, and three others in Benghazi, Libya.

"When I heard that the U.S. ambassador was slain," Firasat told the Belgian newspaper De Morgen in December 2012. "I said okay, you Muslims, use violence, but we will continue to make films. One day one of us will lose."

[...]

Read the full article at: gatestoneinstitute.org




---
Imran Firasat arrested in Norway
The Pakistani Imran Firasat fled to Norway when Spain decided revoked his asylum status. For a week he thought that Norway would grant him a safe haven – then he was apprehended and jailed.

– His fate is highly uncertain, says a Norwegian who talked to Imran Firasat before his arrest.

In several articles Dispatch International has reported on Imran Firasat, the Pakistani who fled his country because the Islamic authorities forbid him to marry his Buddhist girl friend. He came to Spain and was granted asylum.

A few years ago, Firasat converted to Christianity and stepped up his critique of Islam. He has made a number of films about Islam and Muhammed, causing his life to be even more endangered than when he left Pakistan. And it appears to be his criticism of Islam that has given Spain cold feet.

Last year Firasat's asylum status was suddenly revoked. The case went all the way to the Supreme Court, which dismissed his appeal and decided that het could no longer stay in Spain. The court based its decision on the law that makes it possible to deprive a person of his residence permit if he is deemed to constitute a danger to the country's security.

[...]

Then he fled Spain and went underground. On July 8 this year he turned up in Oslo, entered a police station and demanded political asylum. According to sources who met with him, he was very pleased with his reception and his stay at a transit home for refuges.

The police questioned him for two hours and Imran Firasat reported everything that had happened to him after fleeing Pakistan.

[...]

We were clearly worried and finally called the police, who told us that he had been arrested and incarcerated in Kongsvinger jail. They never told us why.

Source