Ex-FBI employee claims she saw angels at Flight 93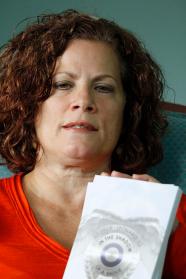 A former police officer who retired from the FBI due to post-traumatic stress disorder linked to her role in the aftermath of the Sept. 11 terror attacks has written a book about seeing legions of angels guarding the Pennsylvania site where a hijacked airliner crashed.

Lillie Leonardi served as a liaison between law enforcement and the families of the passengers and crew members killed in the United Airlines Flight 93 crash. She arrived on the scene about three hours after the crash.

Although Leonardi's book, "In the Shadow of a Badge: A Spiritual Memoir," centers on her vision of angels, she argues her life has been changed more by what she didn't see that day.

"The biggest thing for me is that that there were no bodies," she said.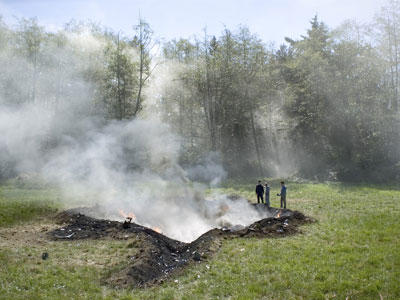 Leonardi, 56, remembers the burning pine and jet fuel stinging her nostrils. She said she also remembers a smoldering crater littered with debris too small to associate with the jetliner or 40 passengers and crew on board.

"I'm used to crime scenes but this one blew me out of the water. It just looked like the ground had swallowed up" the plane, Leonardi said.

"That's when I started seeing like shimmery lights ... and it was kind of misty and that's when I first saw, like, the angels there," Leonardi said. "And I didn't say anything to the guys because you can imagine if I would have said, 'I just saw angels on the crash site,' they'd have called the office and they'd have said, 'She lost her mind and tell her to go home.'"

Instead, Leonardi kept it to herself for the better part of two years. As emotional and physical ailments surfaced that she would later learn were post-traumatic stress disorder-related, she began telling a close circle of friends and colleagues what she saw, including Kenneth McCabe, her former supervisor.

McCabe, 59, now retired near Cocoa Beach, Fla., was chief of the FBI's operational response section, which sent laboratory teams to gather evidence from each of the Sept. 11, 2001 terror sites. A year or so later, he became the special agent in charge of the FBI's Pittsburgh Field Office, making him Leonardi's boss until he retired from the bureau in 2004.

"I believe her. I read the whole book," McCabe told The Associated Press. "I know she believes 100 percent that's what she saw. I know she's a sane person so I'm not going to discount what she says she saw."

McCabe said he also understands why the Flight 93 crash site was different than the other attack scenes.

"I was there one day when they brought a busload of family members to overlook the site ... and I teared up," McCabe said. "Just because these people had the thousand-yard stare. They didn't have any closure. They didn't have any bodies to look at. They didn't have anything to look at. At least in New York and Washington, there was the devastation (of the World Trade Center and the Pentagon) but here, except for seeing someone off in the distance, in the woods, looking for things, there was nothing."

Leonardi has befriended some Flight 93 family members, though none consented to be interviewed for this story. Asked about the book, the spokeswoman for the Families of Flight 93, Lisa Linden, issued a statement lauding the "extraordinary work" done by the FBI that also said, "The crash site and sacred ground — now central to the Flight 93 National Memorial — is a place that elicits powerful reactions from those who work at the site and who visit."

Leonardi's story has caught the attention of WQED, Pittsburgh's public television station, which featured a segment on her book in a March episode of "Pittsburgh 360," a public affairs and current events show.

The Rev. Ron Lengwin, spokesman for the Roman Catholic Diocese of Pittsburgh, counts Leonardi a personal friend and also interviewed her on his weekly radio show, Amplify.

"I have no reason to believe that she did not see angels," Lengwin said. "I think it's not surprising to me that God could choose to say that he was present there to give comfort to people, and to give comfort to the people who were there to give comfort to other people."

[...]

Read the full article at: google.com

Flight 93 Responder Remembers 9/11 - Video