Ex-Secret Service officer: I almost shot LBJ
Retired Secret Service agent Gerald Blaine has a book coming out -- "The Kennedy Detail" -- that contains a rather stunning revelation: In the chaotic wake of the power transfer that took place after the assassination of John F. Kennedy, Blaine says he almost shot Lyndon Johnson, when he mistook him for an intruder inside Johnson's D.C. home.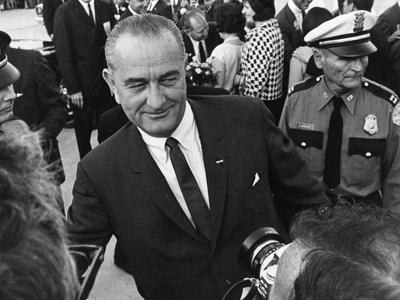 In an excerpt from the book on the Huffington Post, Blaine describes standing watch at the Johnson home the night after the Kennedy assassination, and how he heard someone approaching him from behind.

The book -- a broader insider account of the presidential security detail during the Kennedy-Johnson era that Blaine wrote with the assistance of journalist Lisa McCubbin -- describes the ensuing scene in the third person.


Instinctively Blaine picked up the Thompson submachine gun and activated the bolt on top. The unmistakable sound was similar to racking a shotgun. He firmly pushed the stock into his shoulder, ready to fire. He'd expected the footsteps to retreat with the loud sound of the gun activating, but they kept coming closer. Blaine's heart pounded, his finger firmly on the trigger. "Let me see your face, you bastard."

The next instant, there was a face to go with the footsteps.

The new President of the United States, Lyndon Baines Johnson, had just rounded the corner, and Blaine had the gun pointed directly at the man's chest. In the blackness of the night, Johnson's face went completely white.



It's hard to surmise whether the night-after killing of Johnson would have laid to rest any of the Oliver Stone-style theories of the Kennedy assassination as a massive top-down government cover-up -- or only have caused them to spin more frenetically out of control. Happily, thanks to Blaine's self-restraint, we'll never have to know.

Meanwhile, Blaine also uses "The Kennedy Detail" to lay another bit of JFK-related intrigue to rest: The playboy 35th president never did have a romantic dalliance with Marilyn Monroe, the author insists. Blaine says that the film siren was only in the company of Kennedy twice, and that she left alone both times -- though he doesn't appear to say whether those meetings occurred in private, or if not, whether the two were able to adjourn to a more secluded setting at some point.

We suppose we'll have to buy the book to get the full story.

Article from: news.yahoo.com