Eyes Wide Shut: 'Biggest sex party' sparks fury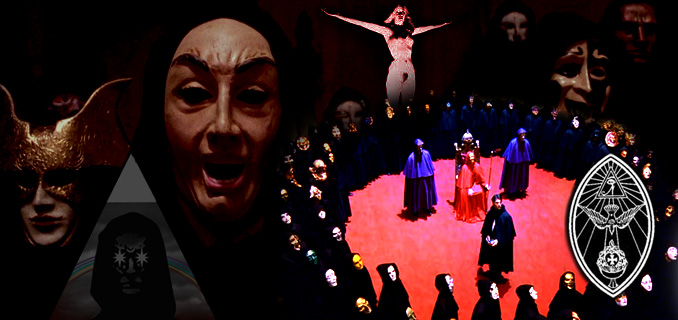 The "Eyes Wide Shut Orgy Sex Party" hosted by the club Adam and Eva has been generating a lot of controversy in Norrköping as one of the largest swingers parties in Swedish history.

As reported in TheLocal.se, the organized "orgy of sex, erotica, and lust" has many residents worried over how close the theatre and its rituals will be to the local homes and children.

Consenting adults choosing how and when to engage sexually is very surely their own business, but the production levels of this accessible event, from expensive tickets and a professional director, to the Club maintaining that it is a 'ritual', makes it very symbolically charged - and seems to be meant for very public consumption.

The 'religion of the body', where sex is the highest of 'spiritual achievements', can play out when Atheism and Science have become religion.
These concepts were well understood by Stanley Kubrick, as laid out in his film "Eyes Wide Shut" - the namesake of the Swedish sex event. (See below for Red Ice Radio interviews and analysis of Kubrick's films and occult sexual rituals.)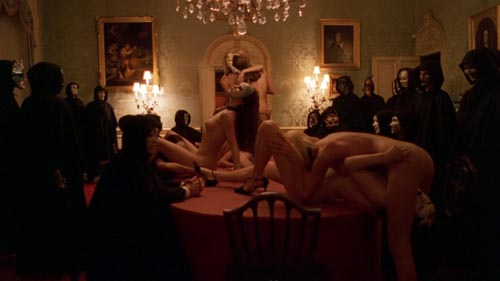 The O.T.O (Ordo Templi Orientis), and well known founder Aleister Crowley were also students of such power-sex-magic rituals.

From Wikipedia:

Carl Kellner, the founder of Ordo Templi Orientis, (O.T.O.), claimed to have learned the techniques of sex magic from three adepts in this art. Beginning in 1904, references to these secrets, Kellner, and the O.T.O. began appearing in "an obscure German masonic periodical called Oriflamme." In 1912, the editors of Oriflamme announced:

Our order possesses the key which opens up all Masonic and Hermetic secrets, namely, the teachings of sexual magic, and this teaching explains, without exception, all the secrets of Freemasonry and all systems of religion.
[...]
While the O.T.O. included, from its inception, the teaching of sex magick in the highest degrees of the Order, when Crowley became head of the Order, he expanded on these teachings and associated them with different degrees...


In all, it would seem that those who have arranged the sex event have chosen key words and symbols purposefully, from invoking "Kubrick", "Eyes Wide Shut" and "ritual", to the club being called "Adam & Eva" (a taunt at the Judeo-Christian creation myth).

The Adam & Eva website can be found here: http://www.clubadamoeva.se/

Is booze and sex is the only way to express yourself in Sweden? The only form of release? This 'ritual' seems without depth, and is "where humanity's most primal urge–procreation–has been cheapened, fetishized, perverted, and exploited to a point that it has lost all of its beauty." Source

TheLocal reports...

---
Sweden's 'biggest sex party' sparks local fury
From: The Local

News that the largest swingers party in Swedish history will be held next month in a town in eastern Sweden has some residents hopping mad about the impact that the "orgy of sex, erotica, and lust" will have on their neighbourhood.

"I know it's not illegal, but I don't think it's appropriate for a residential area," resident Mariah Jacobsson told the local Norrköpings Tidningar (NT) newspaper.

Jacobsson is one of many residents who live near Norrköping's Arbis Theatre, where what's being billed as Sweden's largest-ever swingers party will be held on October 19th.

Anticipation has been building for the "Eyes Wide Shut" party, which boasts a lengthy invite list of Scandinavia's "delicious, delightful, and horny swingers".

The initial allotment of 375 tickets on offer from Club Adam and Eva, which calls itself "Sweden's leading swingers club", sold out so quickly that organizers chose to extend the guest list and release another fifty tickets.

The upcoming "Eyes Wide Shut" is set to be the club's first event at the Arbis, an arts and cultural centre that Club Adam and Eva is considering moving into permanently at the end of the year.

In March of this year, the club, which claims to have 2,500 members, was forced to abandon its attempt to set a new Swedish record for "group sex" after a fire destroyed the building that housed the "erotic oasis".

But the upcoming sex party as well as the proposed permanent move to the Arbis has angered neighbours as the theatre is in the middle of a residential neighbourhood.

"This kind of thing doesn't belong here; them having sex and changing partners. I think it's too close to small children and families," Louise Carlén, who lives in the area, told Sveriges Television (SVT).

An online reader poll conducted by local paper NT prompted 402 responses, with just over half indicating they would like to participate in the swingers party.

Roughly one in three, however, said they would say no if their partner asked them to accompany them to a swingers party, while 66 respondents said they would break up with their partner if asked to go to a swingers party.

The owner of the building set to house the sex party, Robin Karlsson, has a hard time seeing what all the fuss is about.

"If someone rings me and says 'Hello, I want to buy 300 tickets' then I'm not going to say 'And who will you be sleeping with?'. I'm not allowed to, I can't and I don't want to," he told SVT.

Speaking with NT, Karlsson said he had little patience for locals' complaints.

"It is 2013 after all. How can people be scared of people shagging?" he said.

A representative from Club Adam and Eva told NT the club draws a lot of money to Norrköping, as 90 percent of its members live elsewhere in Sweden.

"The municipality ought to hold us dear," he said.

The upcoming event, which will cost attendees 650 kronor ($103), will follow in the footsteps of the masquerade orgy scene in the 1999 Stanley Kubrick film Eyes Wide Shut, which starred Tom Cruise and Nicole Kidman.

According to Club Adam and Eva, the event will feature an erotic burlesque show "of the highest class" while the Eyes Wide Shut ritual will be coordinated by a professional director.

Article from: thelocal.se




---
Stanley Kubrick's works are never strictly about love or relationships. The meticulous symbolism and the imagery of all of his works often communicate another dimension of meaning–one that transcends the personal to become a commentary on our epoch and civilization. And, in this transitional period between the end of 20th century and the beginning of the 21th century, Kubrick told the story of a confused man who wanders around, desperately looking for a way to satisfy his primal urges. Kubrick told the story of a society that is completely debased and corrupted by hidden forces, where humanity's most primal urge–procreation–has been cheapened, fetishized, perverted, and exploited to a point that it has lost all of its beauty. At the top of this world is a secret society that revels in this context, and thrives on it. Kubrick's outlook on the issue was definitely not idealistic nor very optimistic. Source
---
1999 Stanley Kubrick film Eyes Wide Shut, Ritual Scene
---


Video: Eyes Wide Shut - Orgy scenes




---
Tune into Red Ice Radio:
Kent Daniel Bentkowski - Eyes Wide Shut & Goals of the Global Elite
Jay Weidner - Kubrick's Odyssey, The Brotherhood of Saturn & The Clash of Civilizations
Jay Weidner - Kubrick's Odyssey: How Stanley Faked the Moon Landings & Alchemical Kubrick: The Great Work On Film
Troy McLachlan - The Saturn Death Cult: The Illuminated Ones
Jay Weidner - Alchemical Cinema, 2012 the Odyssey, and Cuzco Revelation
Frater X - The Secret War Inside Freemasonry
Webcast - Chris Knowles - Hollywood, Movie Symbolism & Freemasonry
Colin Wilson - The Outsider, The Robot, Magic & the Occult
William H. Kennedy - Satanism, Ritual Abuse & Pedophilia in the Roman Catholic Church
Lenon Honor - The Borg Agenda,The Sexualization of Technology & The Hive Mentality
Michael Wynn - The Necronomicon, Magick, Hollywood & The Secret Teachings of the Illuminati
Lon Milo Duquette - Aleister Crowley, O.T.O., The Thoth Tarot Deck, Enochian Magic & Initiatory Societies