Father of unarmed slain man linked to Boston suspects wants FBI agents tried - Official story keeps changing
Red Ice Creations Note: Not surprising to many, the official story (as given by 'anonymous' sources we're supposed to trust by default) continues to change, as the explanations for Ibragim Todashev's killing morph from 'he was armed' to 'he was unarmed'. From 'surrounded by group of agents' to 'alone in a room with one agent'. From 'he attacked us with a knife' to it's 'no longer clear what happened'.
If that were the account coming from an average civilian, it would be seen as laughable!
These are supposed to be the good guys. From the actions of this agency and other agencies over the last half century, it's has become crystal clear these aren't the good guys. They're out-of-control goons with licenses to kill, who lack accountability and transparency.

The officials have said that Todashev 'confessed to murder' right before his death. Demonstrate the proof! Who is making these claims? Is the agent who heard this 'confession' the same agent who iced the 27 year old unarmed man?

If the developments of this case don't demonstrate to the observer that the FBI is intrinsically wrapped up in the whole Chechnya, Russia, Boston, affair - stemming back to before the bombings - then the observer isn't paying attention!

The alternative press, the people, should HAMMER the officials for answers. The mainstream media is no longer effective, and cannot be relied upon. There should be visible public inquiries, resignations, and disclosure, or bodies and unanswered questions will continue to pile up.





---



Father of slain man linked to Boston suspects wants FBI agents tried


From: Reuters

The father of a Chechen immigrant shot dead during FBI questioning over his links with the Boston Marathon bombing suspects said on Thursday the American agents responsible were "bandits" who should face trial.

The FBI has said that Ibragim Todashev, 27, was being questioned at his apartment in Florida on May 22 when he suddenly attacked an agent and was shot and killed because of the "imminent threat posed by the individual."


Abdulbaki Todashev [right] bitterly questioned that account at a news conference in Moscow, saying his son was unarmed when he was shot seven times. He said he suspected his son might have been killed to keep him silent.

"I want justice and I want there to be an investigation, so that these people are tried under American law," said Todashev. "These are not FBI agents but bandits - I cannot call them anything else and they must be tried."

He showed reporters photographs of his son's shirtless corpse on a medical table with stitched-up, purplish wounds on his torso, arm and head.

Todashev said his son, a mixed martial arts fighter, knew the late Boston bombing suspect Tamerlan Tsarnaev because they had gone to the same gym in Massachusetts before his son moved to Orlando, Florida, but that they were "not close friends".

[...]

Read the full article at: news.yahoo.com




---
Man with ties to Boston bombing suspect shot, killed during FBI questioning
---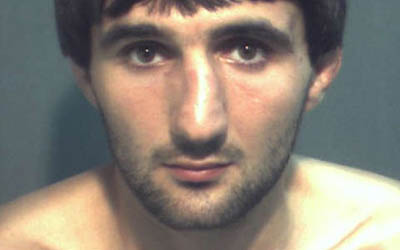 Why'd the FBI Kill Todashev if He Was Unarmed?


By Alexander Abad-Santos | The Atlantic Wire
Law enforcement officials are walking their claims of self-defense all the way back a week after the shooting of Ibragim Todashev — the 27-year-old man who was about to officially confess to a triple murder in Massachusetts and finger Boston Marathon bomber Tamerlan Tsarnaev while he was at it — in his Orlando home by an FBI agent. The Washington Post and Orlando's NBC affiliate both now report that Todashev was unarmed and alone in a room with the single FBI agent when he was killed early on the morning of May 22, two evolving details that continue to raise questions about why investigators used lethal force against a man who may not have posed a lethal threat but who definitely had key information on Tsarnaev.

The Post's Sari Horwitz and Peter Finn report that Todashev "lunged at the agent and overturned a table," at which point, according to Orlando's WESH, "the FBI agent believed he could have possibly been going for his gun or the sword in the room, and that's when the agent opened fire." So, yes, there may have been a giant sword somewhere in Todashev's apartment near Universal Studios, and there could yet be missing pieces in the bizarre public puzzle of this terrorism subplot — the FBI said in a second statement about the case Wednesday that an internal review of the incident was still underway, and the Boston bombing investigation has not been short on misinformation coming from anonymous law enforcement officials. But some initial reports after the Jack Bauer-style saga surfaced last Wednesday insisted that Todashev, after orally confessing to a grisly 2011 killing in Waltham, Massachusetts, attacked the agent with a knife. Within a day, but under the radar, some of the anonymous officials began to change their story, backtracking about the Todashev confession standoff and telling outlets like the AP that "it was no longer clear what had happened." The FBI has only said in a statement that "a violent confrontation was initiated by the individual."

[...]

Read the full article at: theatlanticwire.com




---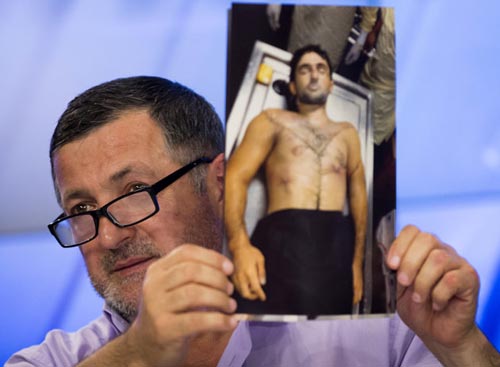 Abdul-Baki Todashev holds a photo he claims is of his dead son Ibragim Todashev, during a news conference in Moscow, Russia, Thursday, May 30, 2013.