FBI Document—"[DELETED]" Plots to Kill Occupy Leaders "If Deemed Necessary"
Would you be shocked to learn that the FBI apparently knew that some organization, perhaps even a law enforcement agency or private security outfit, had contingency plans to assassinate peaceful protestors in a major American city — and did nothing to intervene?

Would you be surprised to learn that this intelligence comes not from a shadowy whistle-blower but from the FBI itself – specifically, from a document obtained from Houston FBI office last December, as part of a Freedom of Information Act (FOIA) request filed by the Washington, DC-based Partnership for Civil Justice Fund?

To repeat: this comes from the FBI itself. The question, then, is: What did the FBI do about it?

The Plot

Remember the Occupy Movement? The peaceful crowds that camped out in the center of a number of cities in the fall of 2011, calling for some recognition by local, state and federal authorities that our democratic system was out of whack, controlled by corporate interests, and in need of immediate repair?

That movement swept the US beginning in mid-September 2011. When, in early October, the movement came to Houston, Texas, law enforcement officials and the city's banking and oil industry executives freaked out perhaps even more so than they did in some other cities. The push-back took the form of violent assaults by police on Occupy activists, federal and local surveillance of people seen as organizers, infiltration by police provocateurs—and, as crazy as it sounds, some kind of plot to assassinate the "leaders" of this non-violent and leaderless movement.

But don't take our word for it. Here's what the document obtained from the Houston FBI, said: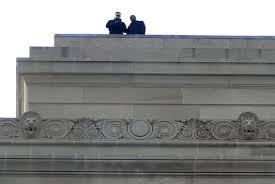 An identified [DELETED] as of October planned to engage in sniper attacks against protestors (sic) in Houston, Texas if deemed necessary. An identified [DELETED] had received intelligence that indicated the protesters in New York and Seattle planned similar protests in Houston, Dallas, San Antonio and Austin, Texas. [DELETED] planned to gather intelligence against the leaders of the protest groups and obtain photographs, then formulate a plan to kill the leadership via suppressed sniper rifles. (Note: protests continued throughout the weekend with approximately 6000 persons in NYC. 'Occupy Wall Street' protests have spread to about half of all states in the US, over a dozen European and Asian cities, including protests in Cleveland (10/6-8/11) at Willard Park which was initially attended by hundreds of protesters.)


[...]

WhoWhatWhy contacted FBI headquarters in Washington, and asked about this document—which, despite its stunning revelation, and despite PCFJ press releases, was notwithstanding a few online mentions, was generally ignored by mainstream and "alternative" press alike.

The agency confirmed that it is genuine and that it originated in the Houston FBI office. (The plot is also referenced in a second document obtained in PCJF's FOIA response, in this case from the FBI's Gainesville, Fla., office, which cites the Houston FBI as the source.) That second document actually suggests that the assassination plot, which never was activated, might still be operative should Occupy decisively re-emerge in the area. It states:

On 13 October 20111, writer sent via email an excerpt from the daily [DELETED] regarding FBI Houston's [DELETED] to all IAs, SSRAs and SSA [DELETED] This [DELETED] identified the exploitation of the Occupy Movement by [LENGTHY DELETION] interested in developing a long-term plan to kill local Occupy leaders via sniper fire.

Asked why solid information about an assassination plot against American citizens exercising their Constitutional right to free speech and assembly never led to exposure of the plotters' identity or an arrest—as happened with so many other terrorist schemes the agency has publicized—Paul Bresson, head of the FBI media office, offered a typically elliptical response:

The FOIA documents that you reference are redacted in several places pursuant to FOIA and privacy laws that govern the release of such information so therefore I am unable to help fill in the blanks that you are seeking. Exemptions are cited in each place where a redaction is made. As far as the question about the murder plot, I am unable to comment further, but rest assured if the FBI was aware of credible and specific information involving a murder plot, law enforcement would have responded with appropriate action.

Note that the privacy being "protected" in this instance (by a government that we now know has so little respect for our privacy) was of someone or some organization that was actively contemplating violating other people's Constitutional rights— by murdering them.

Read the full article at: whowhatwhy.com