FBI's Crazy Response to 91-Year-Old-Man Keeping 'Artifacts' in His Basement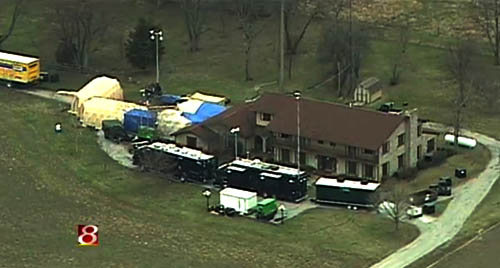 Check out this massive response from the FBI: two major ops black trucks, four huge containment tents? What does this guy possess? Are they on a hunt for a specific artifact?

And what a strange connection that the man in question was part of the Manhattan Project, instrumental in creating the first atomic bomb.

More on what a 91-year-old man has in his basement, and how it earned him an urgent FBI raid...

---
What a 91-Year-Old Man Has Been Keeping in His Basement Got Him a Visit From the FBI
By Dave Urbanski | The Blaze

When Andi Essex got an eyeful of Don Miller's gigantic basement collection of artifacts he's acquired from his travels around the world, she was enthralled.

"It's unreal," Essex told WISH-TV in Indianapolis, adding that the "full skeleton is what blew my mind" and that her "favorite" was Miller's piece of Hitler's bunker.

The 91-year-old is a veteran, former teacher, and was part of the Manhattan Project which created the atomic bomb — and over eight decades has traveled to more than 200 countries, collecting and bartering for artifacts along the way.

"He's just a very interesting, interesting guy," Essex told WISH.

Apparently the FBI agrees.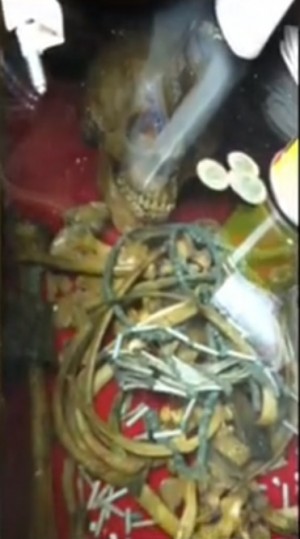 Federal agents took over Miller's home in Waldron, Ind., about 35 miles southeast of Indianapolis, on Wednesday because they believe some of his artifacts may violate several treaties and could have been "acquired improperly."

"Over the last several months, an FBI investigation has determined that Mr. Miller may have knowingly and unknowingly collected artifacts, relics and objects of cultural patrimony in violation of several treaties federal and state statutes," FBI Special Agent in Charge Robert Jones told WISH.

Jones said some statutes and laws from the last several decades may not have been in effect when Miller collected some of the items, adding that it's "our duty to ensure they are properly identified, safeguarded, collected and stored in a manner that allow us to eventually to return them to those Native American and other nations and cultural groups who have legitimate rights to ownership."

While Miller invited the agents inside his home and told WISH that everything is rightfully his, officials are making sure in a big way. A command station, trucks, and huge tents surround Miller's house, along with crime scene tape, as they comb through his artifacts.

"He is being cooperative and so far everything is going well," Paul Bresson, FBI spokesperson, told WISH.

The FBI added all artifacts Miller possesses legitimately will be returned to him; the agency wouldn't confirm or deny if criminal charges are being filed.

Jones said the FBI will turn over its findings to the U.S. Attorney's office once the investigation is complete.

"I have never seen a collection like this in my entire life except in some of the largest museums," IUPUI Professor of Anthropology Larry Zimmerman told WISH.

The FBI noted that no one is in danger and that they want to return artifacts to their rightful owners and places of origin if necessary — which would be a disappointment to neighbors who've viewed Miller's collection with a sense of awe.

"I had even asked him, 'Can I bring my Grandpa? Can I?'" Essex recounted to WISH after her tour. "He was like 'Oh, sure! Just call me. Yeah, we'd love to show him through here.' Because you know, anybody who interested who's a history buff would love to see some of the stuff he has."

"He was just one of those guys that you meet once in your life, and he has a huge impact on you, and you just never forget him," Melissa Kleiman told WISH.

"He was just one of the most interesting guys I've ever met. Loves to tell stories of his travels, and he's been all over the world." Among the countries he's visited are Haiti, New Zealand, China, and Greece.

When she heard that the FBI was conducting an investigation of his collection, Kleiman told WISH she was "flabbergasted."

"I'm just thinking about this wonderful man that I had met three years ago, and I'll never forget him and all the stories he told us. I just can't imagine him doing anything wrong on purpose."

Article from: theblaze.com