'Finish the job!' Thousands of Israelis rally in support of Gaza offensive
Thousands of people in Tel Aviv rallied to show support for the IDF's military campaign in Gaza, urging the government forces to stop Hamas rocket attacks on Israel once and for all.

An estimated 10,000 Israelis gathered in Rabin Square for first major demonstration since Operation Protective Edge began on July 8, officially to protect Israeli civilians from the barrage of rockets launched from the militant organization on the Gaza strip.

"I have full confidence in the government and in the army, but at the same time I ask as mayor of Sderot that they put an end to this situation once and for all," AFP reports.

"Finish the job!" he said. "This is a universal principle. We want to live in peace," he added.

"Occupy Gaza now!" placards were seen in the crowd, as the IDF claims Hamas has launched more than 3,500 rockets since beginning of the Israeli campaign, killing three civilians.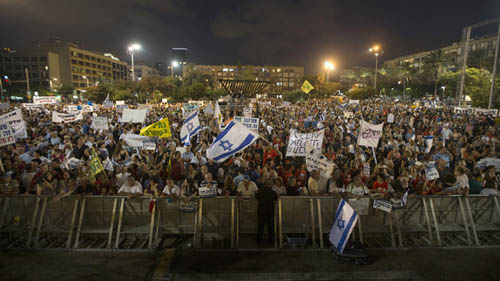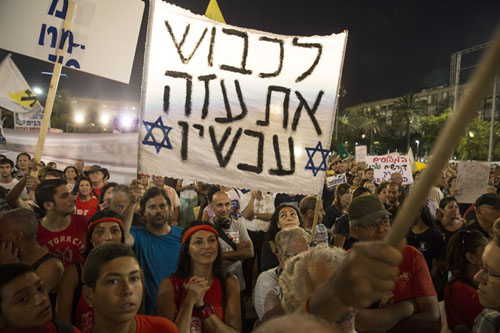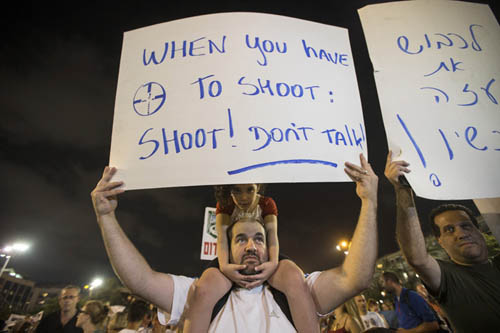 "We all came here to send the message that rocket fire on the south is not only a problem for the south but a problem for the rest of the country," said Haim Yelin, head of the Eshkol regional council.

He thanked the military for launching the offensive.

"I hope they will transform the military victory into a political victory that will bring quiet to the whole country," he said.

[...]

Read the full article at: rt.com




---
Auferre, trucidare, rapere, falsis nominibus imperium; atque, ubi solitudinem faciunt, pacem appellant.

To ravage, to slaughter, to usurp under false titles, they call empire; and where they make a desert, they call it peace.

~Tacitus
---
"Genocide Is Permissible" Muses Times Of Israel, Promptly Retracts