First Man in Space Yuri Gagarin's Mysterious Death Solved?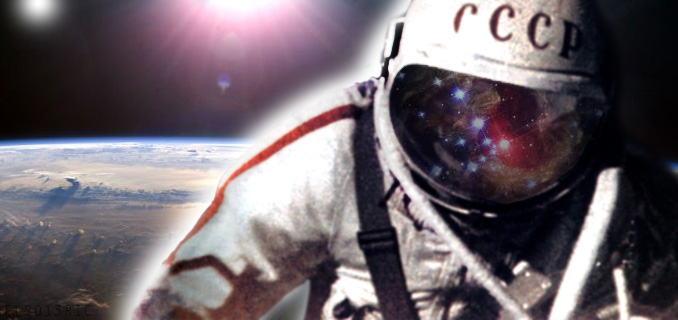 After over 40 years of secrecy, the real cause of death of Soviet cosmonaut Yuri Gagarin, the first human in space, has been made public. Prominent Russian cosmonaut Aleksey Leonov reveals the truth behind the events of that tragic day.

For over 20 years Aleksey Leonov, the first man to conduct a spacewalk in 1965, has been struggling to gain permission to disclose details of what happened to the legendary Yuri Gagarin in March 1968.

Back then a State Commission established to investigate the accident (which Leonov was a part of), concluded that a crew of MiG-15UTI, Yuri Gagarin and experienced instructor Vladimir Seryogin, tried to avoid a foreign object – like geese or a hot air balloon – by carrying out a maneuver that had led to a tailspin and, finally, collision with the ground. Both pilots died in that test flight.

"That conclusion is believable to a civilian – not to a professional," Leonov told RT. He has always had a firm stance against the secrecy surrounding Gagarin's death, and wanted at least his family to know the truth.

"In fact, everything went down differently," he says.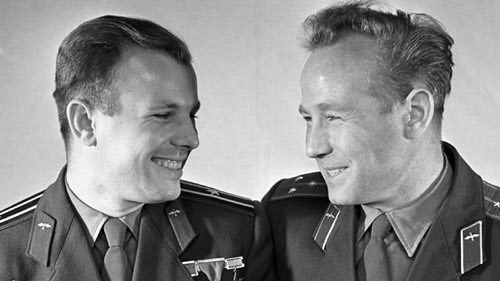 Cosmonauts Yuri Gagarin (L) and Alexey Leonov


According to a declassified report, there is a human factor behind the tragic incident - an unauthorized SU-15 fighter jet was flying dangerously close to Gagarin's aircraft.

Leonov had been in charge of parachute jump training on that day. The weather was extremely bad, with rain, wind and snow making it impossible to carry out exercises. He waited for an official confirmation that the exercises would be cancelled, but then heard a super-sonic noise followed by an explosion only a second apart from each other. That is when he knew something was up.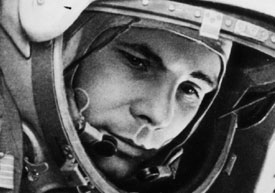 "We knew that a Su-15 was scheduled to be tested that day, but it was supposed to be flying at the altitude of 10,000 meters or higher, not 450-500 meters. It was a violation of the flight procedure."

Leonov that day talked to witnesses that pointed at the model of a Su-15 saying that it appeared out of the clouds with its tail smoking and burning.

"While afterburning the aircraft reduced its echelon at a distance of 10-15 meters in the clouds, passing close to Gagarin, turning his plane and thus sending it into a tailspin – a deep spiral, to be precise – at a speed of 750 kilometers per hour," Leonov tells.

According to the report that Seryogin wrote in his own hand, no aerobatic maneuvers or spins were to be performed by the crew of the MiG-15 with RD-45 engine and external fuel tanks, 260 liters each. Simple turns, pitching and nosedives were conducted after which Yuri reported: "Codename 645, task completed, descending" Leonov explains.

"That was the last we heard from him. The control point recorded that he was at the altitude of 4,200 at the time. 55 seconds later the plane crashed."

Leonov then was ordered to return to the Chkalovsky airfield, where he received the news that Gagarin's plane was supposed to have run out of fuel 45 minutes ago. Leonov's worst suspicions were confirmed when someone had called back reporting a crash site near the village of Novoselovo.

"We sent a team there which found the remains of the plane and the remains of Seryogin. No remains of Gagarin, except for his map case and a purse. So we first thought that he managed to eject. We sent a battalion of soldiers who combed the forest for the whole night. They shouted so that he could hear them, but all they found were remains of a balloon. It was only the next day that we found the remains of Yuri Gagarin. I identified him by a dark mole on the neck which I had spotted just three days before. A commission was set up to investigative the cause of the crash. Gherman Titov and I were invited to take part in the probe as experts."

The truth that was concealed reads more like a thriller story. When Leonov was given clearance to view the actual incident report all these years later, he found a great many inconsistencies. But the issue was with Leonov's own report: it had his name on it, but was written in a different hand, with the facts jumbled up.

"It had been something like this. Marked here was a sonic spike, a blast, followed by one-and-a-half or two seconds of supersonic noise... So, when I looked at the copy, I suddenly noticed that it stated this noise interval to be 15 to 20 seconds long instead of the two seconds that I had reported. That suggested that the two jets must have been no less than fifty kilometers apart."

[...]

Read the full article at: rt.com




---
READ:
Gagarin: The 50th anniversary of human space flight
---
SECRET SPACE: The Cosmonaut Cover-up?
"In 1961, the Soviet media reported that Yuri Gagarin had become the first man in space. However, with the breakup of the Soviet Union and the release of previously classified documents, an astonishing truth has been unearthed. The first man in space was not Gagarin, but Vladimir Ilyushin, one of Russia's most celebrated test pilots. This breakthrough documentary reveals for the first time ever how Ilyushin's mission ended in severe injury and how Soviet authorities, robbed of the image of a conquering hero, decided to conceal the facts from the world.

Explore the hidden history of space exploration. Discover how some of the most dangerous events were concealed from the public and how several of the greatest heroes of early space exploration went totally unrecognized. Learn that the real first man in space was not Yuri Gagarin. This distinction belongs to Vladimir Ilyushin, one of Russia's most celebrated test pilots. "
---



Cosmonaut Crashed Into Earth 'Crying In Rage'


By Robert Krulwich | DuckSoup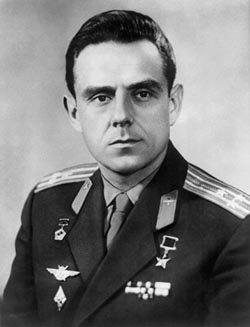 So there's a cosmonaut up in space, circling the globe, convinced he will never make it back to Earth; he's on the phone with Alexei Kosygin — then a high official of the Soviet Union — who is crying because he, too, thinks the cosmonaut will die.

The space vehicle is shoddily constructed, running dangerously low on fuel; its parachutes — though no one knows this — won't work and the cosmonaut, Vladimir Komarov, is about to, literally, crash full speed into Earth, his body turning molten on impact. As he heads to his doom, U.S. listening posts in Turkey hear him crying in rage, "cursing the people who had put him inside a botched spaceship."

Starman tells the story of a friendship between two cosmonauts, Vladimir Kamarov and Soviet hero Yuri Gagarin, the first human to reach outer space. The two men were close; they socialized, hunted and drank together.

In 1967, both men were assigned to the same Earth-orbiting mission, and both knew the space capsule was not safe to fly. Komarov told friends he knew he would probably die. But he wouldn't back out because he didn't want Gagarin to die. Gagarin would have been his replacement.

Both sides in the 1960s race to space knew these missions were dangerous. We sometimes forget how dangerous. In January of that same year, 1967, Americans Gus Grissom, Ed White and Roger Chaffee died in a fire inside an Apollo capsule.

[...]

Read the full article at: reallyducksoup.blogspot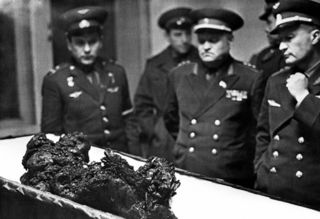 All that was left of Vladimir Komarov was a chipped heel bone and a misshapen molten lump of remains; nonetheless, the state funeral featured an open casket.