Fort Hood: Craigslist Ad Proves False Flag?


The evidence being provided and circulated throughout the alternative news community is the discovery of a Craigslist Ad which ran about a month ago. The ad was calling for role-players, needed to participate in a "mass casualty exercise" at Fort Hood. The existence of the ad is legitimate, and not a hoax.

While drills and exercises are a good way to slide into false flags when these drills turn live, the ad shows the dates for the drill were March 17, 18, and 19, and it's also been reported the exercise was carried off without incident. On the other hand, perhaps the exercise was the dry run before the 'real deal'?

We also question why groups who have billions at their disposal would go to Craigslist to recruit people? (As we've seen with the Boston Bombing scenario, there was evidence the 'patsies' were already well known to intelligence agencies, and Tamerlan Tsarnaev a likely informant for the FBI.)
Why recruit off the street?

What we can confirm is that Fort Hood is a recurring theme. The pattern of the shootings in 2009 and 2014, and the potential attack in 2011, cannot be ignored. In addition it's pretty coincidental that drills and exercises are run on or around violent events.

We're hesitant at this point to label the Fort Hood shooting a definite false flag. However, we want to present any evidence as it develops.

More on the false flag claims and the Craigslist ad from BeforeItsNews...

---
Huge Update! Craigslist Ad Confirmed! Blows Fort Hood False Flag Wide Open
From: Before It's News

A Craigslist ad weeks ago looking for role players for a military mock simulated disaster AT FORT HOOD has the conspiracy theory community worked into a frenzy as another sign that this was a very poorly played out false flag. A screenshot of the Craigslist ad is below the video. A 2nd Craigslist Ad, this time for a 'military mock simulated disaster' at Ft. Dix can still be seen here and screenshot below. Are these Craigslist ads more proof of a MKUltra/false flag connection with the shooting at Fort Hood?
HUGE UPDATE!!! Two additional videos below include Dahboo7 in the 2nd video and Blaine Cooper in the 3rd video who is heard on tape on the telephone speaking to the gentleman who placed the advertisement and confirms the Fort Hood drill!!!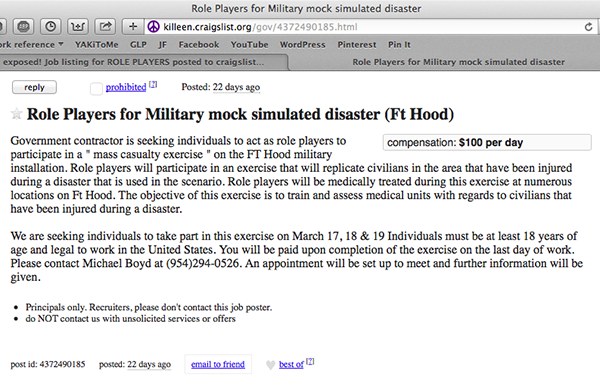 [...]

Read the full article at: beforeitsnews.com





---
Tune into Red Ice Radio:
Holland Vandennieuwenhof & James Lane - A Noble Lie: Oklahoma City 1995 & False Flag Methodology
Tom Secker - Hour 1 - 7/7, State-sponsored Terrorism & Predictive Programming
Sofia Smallstorm - Hour 1 - Unraveling Sandy Hook & The Posthuman Society
Kevin Barrett - Hour 1 - Truth Jihad: 911, World Government & Multiculturalism
Kent Daniel Bentkowski - Anatomy Of A False-Flag Terror Attack
Webster G. Tarpley - 9/11 Synthetic Terror
Peter Dale Scott - Hour 1 - Norway's Massacre, Breivik & Deep Events
James Evan Pilato - Wikileaks, Assange, Pirates, False Flag Terrorism & Starwhackers