France Admits Arming Libyan Rebels


France has become the first member of Nato to state publicly that it has armed rebels fighting Muammer Gaddafi, the Libyan leader.

The French defence ministry said it parachuted weapons and ammunition early this month to rebels fighting about 100km south of Tripoli.

France and Britain, which are among the lead nations in Nato's Libya mission, had previously said the only military support they had given the rebels comprised non-lethal goods, such as communications equipment.

The two countries were forced to take this cautious approach because the UN mandate for their mission is limited to defending civilian populations from attack.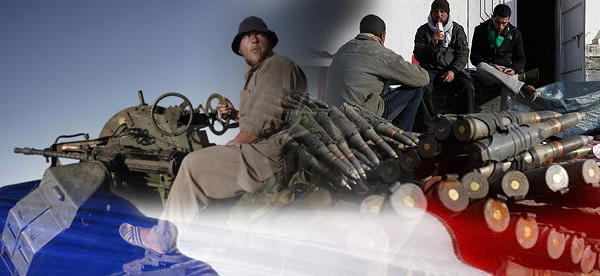 France's announcement on Wednesday came after Le Figaro newspaper reported that Paris was providing rebels in the Jebel Nafusa mountains with "large amounts" of weapons, including "rocket launchers, assault rifles, machineguns and anti-tank missiles".

The defence ministry sought to clarify the report, insisting that Paris only gave the rebels "equipment allowing them to defend themselves".

However, the ministry acknowledged that this equipment comprised "light weapons and munitions". Some defence experts said they suspected French supplies might well have been on the scale set out in the Le Figaro article.

They noted that the provision of weapons came at the start of significant advances by the rebels south of Libya's capital.

Rebels in the area, many of whom are Berbers, have secured a vast region right up to the town of Gharian, which is held by Colonel Gaddafi's forces.

British officials told the Financial Times that they had been aware for some weeks of France's decision to supply the rebels in the Jebel Nafusa with arms.

"I am surprised the French have gone public on this," an official said.

Rebels fighting in the west of Libya have received weapons from abroad this year, getting supplies from Qatar and the United Arab Emirates. Nato officials said the Berbers had not been short of offensive arms.

"The French move needs to be put in context because equipment is not the game changer," said a senior UK defence official. "There are all sorts of things holding back the rebels in Jebel Nafusa, such as a desire to fight."

However, France's supply of arms indicates that the French and British increasingly see the assault on Tripoli, in west Libya, by rebels as the best chance of beating the Gaddafi regime.

"The fighting in the east certainly sucks up Gaddafi's available forces but it is not the centre of gravity in the conflict," said the UK defence official.

"The Berbers have been better organised and done a lot more fighting." Some Nato officials said France's admission that it was supplying arms could lead to debate inside Nato over whether more should be done on this scale.

"There are many people who think the time has come to get serious," said an official at Nato headquarters in Brussels. "The fact that the French are prepared to let the news media know they are doing this kind of thing reflects that."

Source: ft.com