Fukushima Nuclear Cooling System Goes Down (Again)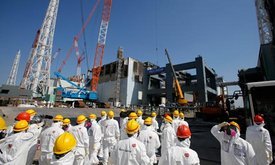 A cooling system inside one of the reactors at the Fukushima nuclear power plant failed once again on Friday, highlighting the ongoing nuclear catastophe at the plant—which reports say will take decades to decommission.

A TEPCO official said that they had lost the ability to cool radioactive fuel rods in one of the plant's crippled reactors for roughly three hours—the second failure of the system in three weeks.

If the cooling system fails for an exteneded period of time, a nuclear metldown could occur.

Reuters reports:

Tokyo Electric Power Co (Tepco) said it was alerted by an alarm that the cooling system for the No. 3 reactor had shut down at around 2:27 p.m. (0527 GMT) after a power board failed. Technicians fixed the problem by about 5:20 p.m., the utility said.

Tepco said workers appeared to have had inadvertently caused the power outage on Friday when they were trying to install a net to keep small animals from crawling into the reactor building.

A rat caused a power outage at Fukushima last month when it triggered a circuit breaker by bumping into exposed wires. In that case, the cooling system was shut down for almost a day.



[...]

Read the full article at: commondreams.org