Gallery owner in shock – wants to leave Sweden
Henrik Rönnquist

---


Gallery owner in shock – wants to leave Sweden


By Ingrid Carlqvist | Dispatch International

Eight hours after police stepped into his gallery, apprehended artist Dan Park, and seized at least eight pictures, gallery owner Henrik Rönnquist is still in shock.

– Sure, we joked about Dan being arrested, but never in our wildest dreams could we ever imagine this actually happening. Now, I want to leave Sweden, says Henrik Rönnquist.

Saturday morning, he was happy and excited. He knew that the police was prepared to defend his gallery and his right to exhibit art that challenges the politically correct. When protestors showed up from two different streets, they were held back by police barricades. The only problem was, that so were the people who had actually come to see the pictures.

– I asked the police to let my friends through, and they did. I also asked them to remove a guy who was walking around handing out leaflets saying that this was racist art. They did that too.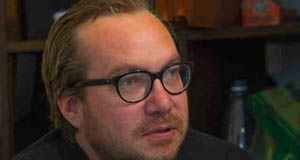 However, about half an hour after the exhibition had opened, the police changed their behaviour. The entered the gallery and arrested Dan Park, seized at least eight pictures and explained to Henrik Rönnquist that he wasn't being arrested "out of consideration for the opening".

But Rönnquist was afraid to keep the gallery open after the police had made their move. Especially since they removed the barricades and allowed the crowd to storm the gallery.

– What's happening now is very, very dangerous, says Henrik Rönnquist. Sweden is heading towards dictatorship, and I'm scared to stay here much longer.

– I recently read the book The Whisperers: Private life in Stalin's Russia. It describes how, in The Soviet Union, there were two kinds of whispers – one for those whispering out of fear that someone would hear them, and one for those whispering behind people's backs and informing the authorities.

– That's where Sweden is now – there are many of us, whispering out of fear of being overheard, Henrik Rönnquist says, fighting back the tears.

Rönnquist plans to reopen the gallery as soon as possible. On the empty spots where the seized pictures were supposed to hang, he will post notes. And as soon as possible he will print pictures conveying the message. "This picture cannot be shown, due to fear and dread".

– We did the same when we showed Lars Vilks work in Stockholm – and those pictures actually got sold!

Henrik Rönnquist laughs in spite of himself, but down deep he is shaken to the core over what has happened. Even if he and Dan Park joked about being arrested, neither of them believed it would really happen. But reality is once more stranger than fiction.

– Three times over the last year, I have given the police Today's Rose in the daily Expressen. They won't get that this time, they didn't even escort me to the cab, in spite of the protestors being very aggressive.

Article from: d-intl.com




---
Swedish prosecutor takes a page from the Soviet manual - Artist might be declared insane, to have him committed
Record number of people leave Sweden
---

Red Ice Radio spoke with artist Dan Park on his arrest and how in Sweden any viewpoint that opposes the left is deemed offensive and racist:

Dan Park - Sweden's Soviet Style Art Censorship & Dying Freedom of Speech

Hear more:

Ramzpaul - Hour 1 - Multicultural Chaos, Peaceful Nationalism & White Guilt

Ricardo Duchesne - Hour 1 - The Uniqueness of Western Civilization & Multicultural Madness

Mark Weber - Hour 1 - Extremist Watch Groups, Culture Clash & Germanophobia

Kevin MacDonald - The Dispossession of Europeans & Pathological Altruism

Christopher Bollyn - Hour 1 - Solving 9-11, The Deception that Changed the World

Acharya S - Hour 1 - The Moses Myth, Yahweh Supremacy & Cultural Genocide

Mikkel Clair Nissen - Hour 1 - Psychopathic Narcissism & Pathological Collectivism in Denmark

Ingunn Sigursdatter - Norway: Happiest Country on Earth Myth & Awakening the Norsemen

Dale Hurd - Sweden: No Diversity in Politics and Media

Lisa Andersson - When Swedish Tax Authorities Attack

Klaus Bernpaintner - A Swedish Lesson in Conformity & Control

Alex Newman - Sweden's Big Government 'Utopia' Unmasked

Gavan Kearney - Hour 1 - The State of the Art, Corrosive Counter-Culture & Attack on Beauty

Sweden & The Nordic Countries, a Socialist Utopia?
What you didn't know about Sweden, Norway, Denmark & Finland