Garlic Keeps More Than Vampires Away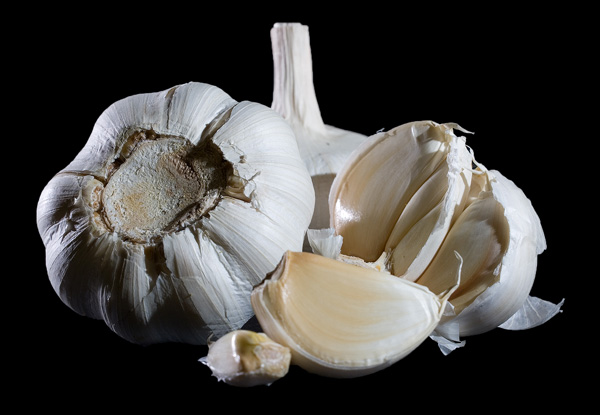 Garlic has ancient roots. The word "garlic" comes from Old English and means spear-leek. Both leeks and garlic come from the onion family (Alliaceae). The plant is thought to have originated in central Asia, used there since neolithic times. It was probably among the earliest of cultivated crops. It spread early, via trade routes, to become a staple flavoring throughout Europe, Asia, and Africa.

Archeologists have discovered clay sculptures of garlic bulbs and paintings of garlic dating about 3200 B.C. in Egyptian tombs in El Mahasna. An Egyptian papyrus dating from 1,500 B.C. recommends garlic as a cure all for over 22 common ailments, including lack of stamina, heart disease and tumors. Tutankhamen (Egypt's youngest pharaoh) was sent into the afterlife with garlic at his side.

It was popular in India among the lower classes. It was thought to be a strong stimulant, even an aphrodisiac. As such, monks were abjured to abstain from it. It was also thought to have medicinal properties that promoted extended life spans, and to cure several diseases. Today, scientific literature shows that the ancients were correct: garlic is a very beneficial food.

In 1858, Louis Pasteur documented that garlic kills bacteria, with one millimeter or raw garlic juice proving as effective as 60 milligrams of penicillin. During World War II, when penicillin and sulfa drugs were scarce, the British and Russian armies used diluted garlic solutions as an antiseptic to disinfect open wounds and prevent gangrene. Though not completely understood at the time, today's research has confirmed that garlic's healing powers stem from hundreds of volatile sulfur compounds found in the vegetable, including allicin, (which gives garlic its offensive odor), alliin, cycroalliin, and diallyldisulphide.


•Garlic lowers blood pressure (9% to 15 % with one or two medium cloves per day.)

•Garlic lowers LDL Cholesterol (9% to 15 % with one or two medium cloves per day.)

•Garlic helps reduce atherosclerotic buildup (plaque) within the arterial system. One recent study shows this effect to be greater in women than men.

•Garlic lowers or helps to regulate blood sugar.

•Garlic assists digestion, alleviating digestive disorders.

•Garlic helps to prevent blood clots from forming, thus reducing the possibility of strokes and thromboses (Hemophiliacs shouldn't use garlic.)

•Garlic helps to prevent cancer, especially of the digestive system, prevents certain tumors from growing larger and reduces the size of certain tumors.

•Garlic may help to remove heavy metals such as lead and mercury from the body.

•Raw Garlic is a potent natural antibiotic that works differently than modern antibiotics and kills some strains of bacteria, like staph, that have become immune or resistant to modern antibiotics.

•Garlic has anti-fungal and anti-viral properties.

•Garlic illiminates yeast infections due to Candida species. (Women can insert a garlic clove into the vagina overnight and remove the next morning. Repeat nightly until the yeast infection is gone.)

•Garlic has anti-oxidant properties and is a source of selenium.

•Crushed raw garlic can be used to kill bacteria and other tiny lifeforms such as E. coli in contaminated water when there is no other water available. Just crush it and let it wait as above and then mix it into a bottle of strained water and let set for an hour or two or overnight to have time to kill as many of the bacteria as possible.

•Garlic can be used on snake and insect bites. Crush it and rub directly into and around the marks.

•A way to use garlic on a stuffy nose, sore throat and infection that has gone into the lungs is to crush the small end of a clove and use it like a Vick's inhaler so you breathe the fumes through your nostrils. This will help clear the passages as well as fight the germs. Eating garlic is not enough, it has to get to the site of the infection as directly as possible and breathing it in takes it all the way into the lungs. Another way to do the same thing is to crush the garlic and wrap gauze, cheesecloth or thin fabric around it and breathe through the gauze to get the vapors into the lungs.

•If you get one of those massive brain-pounding toothaches and there's no dentist around, crushed raw garlic actually knocks out the infection and relieves pain.

•Taking a bath in garlic water will help aches, pains and flus. The healing properties are absorbed faster through the skin.

•Garlic kills many fungi on contact including athlete's foot fungus.

•Eating garlic gives the consumer an enhanced sense of well being - it makes you feel good just eating it.

•Garlic probably has other benefits as well.
If you have any bacteria related issues, garlic is a must. Generally, take 2-3 cloves a day until your problem goes away. Garlic is nature's antibiotic without the harsh side effects.

It is best to let crushed raw garlic set for 7 or 14 minutes before using so that it can form the maximum amount of allicin in order to have greater antibacterial properties. The reason is that crushing garlic forms sulfenic acid (thus the burning sensation) which steadily breaks down into allicin, the highly antibiotic compound that kills bacteria. For reasons not clearly understood, every 6 and 1/4 minutes or so there is a rapid dramatic increase in the rate of conversion for about 30 seconds and then it drops off to normal again for another 6 and 1/4 minute cycle and then it sharply increases again for another 30 seconds or so and again drops back to the normal rate. By waiting seven minutes, you benefit from the first great wave and by waiting 14 minutes, you get the extra boost of the second surge.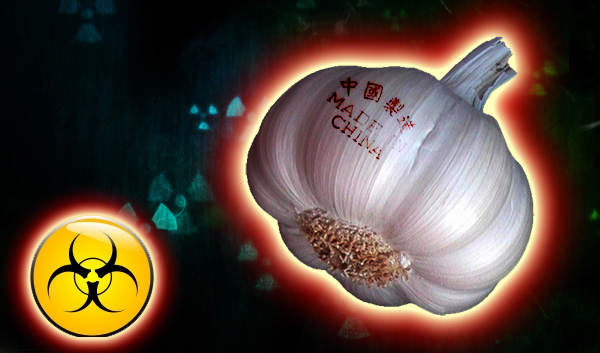 Lastly, not all garlics are alike. Be sure to sure to buy organically grown strong garlic. And watch out for garlic that has been irradiated, mostly coming from China. Irradiation is the process of exposing raw and/or processed food to ionizing radiation, which claims to kill disease and pathogens and extend the shelf-life by altering a plant's (clove's) ability to sprout. Irridiated garlic keeps for a long time and retains it's flavor but loses it's pungency - no heat when raw. The reason for this is that the irradiation literally kills the garlic and it is dead. When you slice irradiated garlic cloves vertically, instead of a healthy, living, light green central spike, it is brown and wilted since it is dead. Irradiated food cannot be recognized by sight, smell, taste, or feel. In the USA, irradiated foods will be labeled with a logo, along with the words "Treated with Radiation", or "Treated by Irradiation." It is best to buy garlic from your local farmers' market or grow your own.

From: redicecreations.com

More health articles