Google Declares War on the Firearm Industry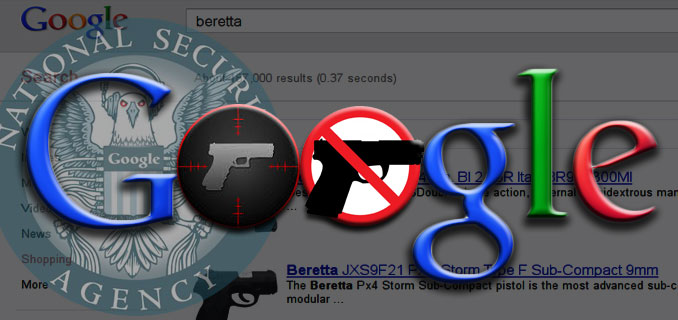 Taking a Bloomberg inspired step toward "curbing gun violence"

Google is taking a Bloomberg inspired step toward "curbing gun violence". Once again demonstrating the level of ignorance that is prevalent in liberal corporate settings, the software company has decided to expand their ban on firearm-related content. Breitbart reported:


According to Google Support's "Dangerous Products or Services" page, the company "[wants] to keep people safe both online and offline, so [they] won't allow the promotion of some products or services that cause damage, harm, or injury."

Right. Google (ya know, the company that tracks your every move online) is trying to keep us safe. God bless those left coast liberals who are suddenly embracing the manipulative power of big business. Of course Google seems woefully ignorant of the fact that such "dangerous" items, actually keep many people safe every day. . I understand it could be chalked up to a difference in corporate culture, but I would encourage Google to promote safety and concealed carry classes if they are serious about keeping people safe offline.

[...]

Read the full article at: infowars.com

---


Google Exercises Gun Control



By Tim Brown| Freedom Outpost

With Google being the major presence on the internet and now seemingly having ties to the government and doing their bidding in providing information and even censoring web sites, it should come as no surprise that Google is now in the business of gun control. That's right, Google Shopping is now controlling guns, ammunition and gun accessories from showing up in their search. They are censoring perfectly legal products.

A weapon's parts and accessories vendor, Hamlund Tactical received a notice from Google outlining what they expected from their customer. The notice said:

Dear Merchant,

We're writing to let you know about some upcoming changes to the product listings you submit to Google. As we recently announced, we are starting to transition our shopping experience to a commercial model that builds on Product Listing Ads. This new shopping experience is called Google Shopping. As part of this transition, we'll begin to enforce a set of new policies for Google Shopping in the coming weeks. A new list of the allowed, restricted, and prohibited products on Google Shopping is available on our new policy page – http://www.google.com/appserve/mkt/ApI7UWRj6OCZpd.

[...]

Now understand, I firmly believe Google has the right to do this. They are a private company. However, the only concern I have has been their ties to the federal government. Also, their ties to the NSA, as well as, their intrusive privacy terms does make one wonder if their is a greater agenda behind the censoring of guns and gun products.

Read the full article at: freedomoutpost.com




---
Facebook And Instagram In Talks With Gun Control Advocates Seeking To Ban Gun Sales On Social Sites
---
Tune into Red Ice Radio:
Anthony Gucciardi - Hour 1 - Boston Bombings, Gun Control & Transhumanism
Josie the Outlaw - Anarchism: Speaking Out Against Tyranny
Jesse Ventura - The Assassination of JFK & American Geopolitics
Sofia Smallstorm - Hour 1 - Unraveling Sandy Hook & The Posthuman Society
Loren Coleman - The Copy Cat Effect & The Aurora Shooting
Mike Seibert - Asset Forfeiture, Endangered Rights & Judicial Tyranny
Julia & BJ Davis - Hour 1 & 2 - Top Priority: The Terror Within