Gov. Jerry Brown to Mexican Illegals: 'You're All Welcome in California'
On Monday evening, California Governor Jerry Brown said all Mexicans, including illegal immigrants, are welcome in California.

According to the Los Angeles Times, while introducing Mexican President Enrique Peña Nieto, who said America is "the other Mexico," Brown "spoke about the interwoven histories of Mexico and California." He "nodded to the immigrants in the room, saying it didn't matter if they had permission to be in the United States."

"You're all welcome in California," Brown reportedly said.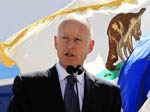 Brown has made California a sanctuary state by signing the Trust Act, giving driver's licenses to illegal immigrants. He has also expanded financial aid to illegal immigrants by signing the California DREAM Act. Peña Nieto reportedly "thanked state officials for embracing foreigners, citing measures that extend state benefits to immigrants."

Even during the border crisis, Brown reportedly vowed "to find ways to shorten long waits at the Tijuana-San Diego international border crossing," saying, "If we can put a man on the moon, we can put a man from Mexico to California in 20 minutes."

In 2012, 28% of Californians were born outside the United States, according to The New York Times. Hispanic voters reportedly "made up 19.2% of California voters" in 2010. And according to Pew Research, Latinos make up nearly 40% of the state's population and have made California "only the second state, behind New Mexico, where whites are not the majority and Latinos are the plurality."

[...]

Read the full article at: breitbart.com