Guatemala's top court overturns ex-dictator's genocide conviction
Guatemala's top court has thrown another curve into the genocide case of former dictator Efrain Rios Montt, overturning his conviction and ordering that the trial be taken back to the middle of the proceedings.

The ruling late Monday threw into disarray a process that had been hailed as historic for delivering the first guilty verdict for genocide against a former Latin American leader.

Constitutional Court secretary Martin Guzman said the trial needs to go back to where it stood on April 19 to solve several appeal issues.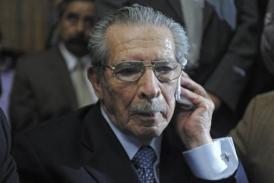 The ruling came 10 days after a three-judge panel convicted the 86-year-old Rios Montt [left] of genocide and crimes against humanity for his role in massacres of Mayans during Guatemala's bloody, 36-year civil war. The panel found after two months of testimony that Rios Montt knew about the slaughter of at least 1,771 Ixil Mayans in the western highlands and didn't stop it.

The tribunal sentenced the 86-year-old former general to 80 years in prison, drawing cheers from many Guatemalans. It was the first time a former Latin American leader was convicted of such crimes in his home country and the first official acknowledgment that genocide occurred during the war — something the current president, retired Gen. Otto Perez Molina, has denied.

[...]

Read the full article at: thestar.com