Hollywood and Hitler: did the studio bosses bow to Nazi wishes?
Book by a Harvard scholar argues that US producers in the 1930s 'collaborated' with the Nazis with cuts to films and self-censorship

The author of a controversial book causing a stir in Hollywood for exposing collaboration between the major studios and Nazi Germany in the runup to the second world war has defended his claims to the Observer.

Harvard scholar Ben Urwand, who spent a decade sifting through German and American archives, said: "I want to bring out a hidden episode in Hollywood history and an episode that has not been reported accurately."

Urwand's interpretation of the relationship is disputed by other scholars of the period. He claims that Hollywood studio chiefs, many of them recent eastern European Jewish refugees, enthusiastically worked with Hitler's censors to alter films or even cancel productions entirely in order to protect access to the German film market. "In the 1930s the Hollywood studios not only collaborated by not making films that attacked the Nazis, they also did not defend the Jews or touch on Germany's persecution of the Jews," Urwand said.

The book, The Collaboration: Hollywood's Pact with Hitler, to be published in November, claims the relationship was so enmeshed that MGM, the biggest studio at the time, went so far as to invest in German rearmament to get around currency export restrictions.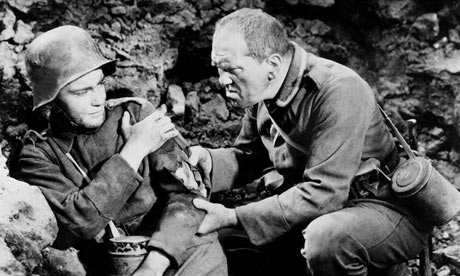 Nazi pressure against Hollywood films began in 1930 with protests at showings of All Quiet On the Western Front.


Urwand said: "Collaboration: it's not my word or invention. I got it from materials from both sides. It's the word that's regularly used to describe their relationship." He said the German head of MGM spoke to the German press of the "satisfying collaboration on both sides".

"It's collaboration in the sense that Hollywood movie executives and Nazi officials are actually collaborating and the Nazis are having the final say," said Urwand. "They didn't want to lose their business. They didn't want to have to go home and come back under different conditions. They also felt Hitler might win the war and they wanted to work with the Nazis to preserve their business."

About his research, Urwand said: "I wouldn't want what I write to be generalisable about Jews, but specific Jews in the movie business made decisions to work with Nazi leaders." Urwand has uncovered evidence that as late as January 1938 the German office of 20th-Century Fox was requesting Hitler's views about American movies. The letter was signed "Heil Hitler".

Three studios – MGM, Paramount and 20th-Century Fox – did not pull out of Germany until mid-1940. But even after Hollywood started making anti-Nazi films, Urwand says, it continued to erase reference to the Jews because studio chiefs (with the support of Jewish groups) wanted to "avoid special pleading on their behalf".

The author dates Nazi meddling back to the premiere of All Quiet On the Western Front in 1930 when, encouraged by Joseph Goebbels, they set off stink bombs and let white mice loose in the theatre. Carl Laemmle, the Jewish German-American head of Universal, agreed to cuts.

[...]

Read the full article at: guardian.co.uk




---
Tune into Red Ice Radio:
Mark Weber - Historical Review of War, Political Leadership & World War Two
Julia & BJ Davis - Top Priority: The Terror Within
T. Stokes - Hitler, The Occult, WWII & NWO Astrologers
Michael Wynn - The Necronomicon, Magick, Hollywood & The Secret Teachings of the Illuminati
William Bramley - Gods of Eden, Alien Colonization, Eradication of Humanity & Theories About Christ
Freeman & Jamie Hanshaw - Hollywood Mind Control