Hundreds rushed to hospital with suspected poisoning at Bangladeshi garment factory
As many as 600 Bangladesh factory employees have been hospitalized, reporting stomach pains and vomiting after drinking water, suspected to have been deliberately contaminated.

"Primarily we suspect the water supply of the Starlight Sweaters factory was poisoned or contaminated," local industrial police officer Mahfuzur Rahman told AFP on Wednesday. The factory is located in Gazipur, a suburb just north of the capital, Dhaka.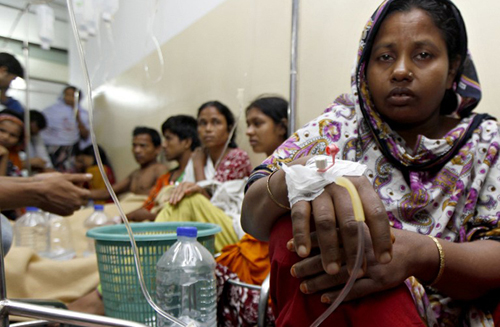 Garment factory workers rest on the floor as they receive intravenous drips after falling sick from drinking contaminated water on the outskirts of Dhaka, on June 5, 2013.


The estimate of 600 was cited to the news agency by the administrative officer of the factory, with an official from Bangladesh's Garment Manufacturers and Exporters Association (BGMEA), stating that the contamination could well have been deliberate.

"We are suspecting that it was poisoning of the water. It could be some sort of pesticide," S M Mannan, a vice president of the BGMEA, told AFP. He went on to state that the factory has its own water supply from a deep-tube well so the scope for contamination was almost nil. "Someone might have mixed poison in the water," he said.

[...]

Read the full article at: rt.com