Illinois illegally seizes Bees Resistant to Monsanto's Roundup; Kills remaining Queens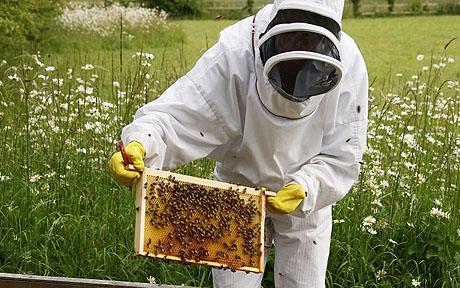 The Illinois Ag Dept. illegally seized privately owned bees from renowned naturalist, Terrence Ingram, without providing him with a search warrant and before the court hearing on the matter, reports Prairie Advocate News.

Behind the obvious violations of his Constitutional rights is Monsanto. Ingram was researching Roundup's effects on bees, which he's raised for 58 years. "They ruined 15 years of my research," he told Prairie Advocate, by stealing most of his stock.

A certified letter from the Ag Dept.'s Apiary Inspection Supervisor, Steven D. Chard, stated:

"During a routine inspection of your honeybee colonies by … Inspectors Susan Kivikko and Eleanor Balson on October 23, 2011, the bacterial disease 'American Foulbrood' was detected in a number of colonies located behind your house…. Presence of the disease in some of your colonies was confirmed via test results from the USDA Bee Research Laboratory in Beltsville, Maryland that analyzed samples collected from your apiary…."

Ingram can prove his bees did not have foulbrood, and planned to do so at a hearing set in April, but the state seized his bees at the end of March. They have not returned them and no one at the Ag Dept. seems to know where his bees are.

The bees could have been destroyed, or they could have been turned over to Monsanto to ascertain why some of his bees are resistant to Roundup. Without the bees as evidence, Ingram simply cannot defend against the phony charges of foulbrood.

Worse, all his queens died after Kivikko and Balson "inspected" his property, outside of his presence and without a warrant.

Of note, Illinois beekeepers are going underground after Ingram's experience and refuse to register their hives, in case the state tries to steal their private property on phony claims.



[...]

Read the full article at: globalresearch.ca




---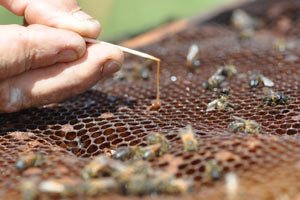 The "rope test" for foulbrood
---

From The Prairie Advocate:

It was not until during a hearing at the IDofA in Springfield on April 4th that Ingram found out who "the culprit" was. The hearing, held 3 weeks after the IDofA removed most of his bees and hives from his property, was to determine whether or not Ingram had American Foulbrood in his hives.

There are 2 questions that Ingram wants answered:

1) Did the IDofA, a state agency, have the right to enter Ingram's property and confiscate a suspected "nuisance," before Ingram had his day in court?

2) Where are his bees? The "evidence" has disappeared, and the IDofA refuses to tell Ingram where they are, before, during, and after the hearing.

"I have been keeping bees for 58 years," Ingram said during an interview at his home and apiary. "I am not a newcomer to beekeeping, and I definitely know what I am doing. I have been teaching beginning beekeeping classes for 40 years. In fact, it was my recommendation to some of my students who wanted to keep getting together to form a club. Today, the Stateline Beekeepers Association is one of the largest in the state."
A timeline of events

In the summer of 2011, at a beekeepers picnic in July, Ingram gave Susan Kivikko, the new local bee inspector for the IDofA, a frame of comb that the bees would have nothing to do with. Ingram wanted to know what chemicals were in it, but Kivikko informed him that the IDofA did not have the funds to test for chemicals, just funds to test for foulbrood.

Following the Illinois Bees and Apiaries Act (510 ILCS 20/1 et seq.), Ingram received an IDofA "Apiary Inspection Site Report" in November that said on Sunday, October 23, 2011; Inspector Susan Kivikko examined his apiary.

In the report, Kivikko commented that "foulbrood [was] present - Colonies weak." She said that out of 19 colonies, 15 were examined and 15 samples of suspected foulbrood were gathered. 11 were "dead."

Next, Ingram received a "Disease Notice" dated November 9, 2011, and a copy of the "Bee Disease Diagnosis" submitted by Kivikko to the USDA Bee research Laboratory in Maryland, received at the lab 10/27/11, and diagnosed 11/01/11. The notice stated that yes, Ingram's apiary was infected with foulbrood, and that treatment by burning is ordered in accordance with Sec. 60.50(b) of the Bees and Apiaries Act.

Going back to the summer beekeepers picnic in July, in a phone call to Kivikko on Monday, April 30, she confirmed that yes, Ingram had asked her to look at a frame that his bees ignored, and asked her to test it for chemicals. She did have the comb tested for foulbrood, and yes, the comb did test positive. Ingram did not receive an Apiary Inspection Site Report, since he gave the frame to Kivikko at a picnic. But he did not receive a Disease Notice or Bee Disease Diagnosis from that sample.

"All combs, frames, honey and bees must be destroyed by burning . . . Hive bodies, supers, bottom boards, inner and outer covers may be salvaged by sanitizing with a scorching flame, such as a propane torch." The notice was signed by Kivikko, and said Ingram must comply with the order by November 25, 2011.

"They gave me 10 days to destroy it," said Ingram. "Destroy what? She had identified the hives by their numbers. That's how beekeepers keep records, that's the first thing we do is number the hives. Well, the end of October came, and it was still warm in early November, so I painted all of my equipment, so it would be ready for my beginning beekeeping class. How could I know what numbers they were that she was referring to? Under oath, she said she could see the numbers under the paint. She must have better eyes than me." (Note: this reporter could not see the numbers)

The diagnosis from the USDA lab stated that "Hives #9, 11 (smear). 11 (comb), 13, 13B, 15, 15B, 18, 19, 22, 28, 29, Dead, Comb (no label), and 12 - American Foulbrood (Paenibacillus larvae). Hives #4 and 28 - No disease was found.

"Additionally, positive American foulbrood samples #9, 11 (smear), 15, 22, and 29 were cultured and checked for sensitivity to Terramycin and Tylan. The samples were found to be susceptible to both antibiotics."

IDofA allegedly sent another Site Report to Ingram that said on Thursday, December 8, 2011, Kivikko again visited the apiary. (Ingram said he never received it, but was presented a copy at the April 4, 2012 hearing). Kivikko's report said that the status of the "infected colonies" was unchanged. It was noted that she had taken photos during her observations.

On January 3, 2012, Ingram's wife, Nancy, signed a return receipt request for a Certified Letter sent by the IDofA Apiary Inspection Supervisor Steven D. Chard on December 30, 2011. The letter stated that "During a routine inspection of your honeybee colonies by . . . Inspectors Susan Kivikko and Eleanor Balson on October 23, 2011, the bacterial disease 'American Foulbrood' was detected in a number of colonies located behind your house . . . Presence of the disease in some of your colonies was confirmed via test results from the USDA Bee Research Laboratory in Beltsville, Maryland that analyzed samples collected from your apiary . . . Subsequently, in accordance with the . . . Act, an official disease notice was issued to you for destroying the infected colonies. On a return trip to your apiary [Dec. 8] to verify that you had complied with the instructions specified by the disease notice, Ms. Kivikko found that the infected colonies had in fact not been destroyed."

The letter continued with a full description of the proper procedure to "abate the nuisance" as per the above Act. According to the definitions in the Act, "Abate" means the destruction or disinfection of bees, colonies, or items of bee equipment by burning or by treatment specified by the Department.

In the letter, Ingram was "required to abate the nuisance by burning all bees, combs, frames and honey in a pit at least 18 inches deep and then covering the ashes with at least 6 inches of soil. You are to carry out this procedure within 10 days from the date of this letter [Jan. 9, 2012] and Ms. Kivikko will visit your apiary to ensure that the subject colonies have been destroyed. Evidence of the burning pit will confirm that you have complied with this notice."

This requirement is noticeably different than the requirement stated in the Nov. 9 Disease Notice.

Chard advised in the letter that failure on the part of Ingram to follow the instructions "can result in the Department abating the nuisance and charging you for associated costs incurred or conducting an administrative hearing on this matter . . . " Chard also confirmed that American foulbrood "is a deadly disease that can easily spread to other honeybee colonies . . ."

Two more Apiary Inspection Site Reports were produced by IDofA, stating that on Tuesday, Jan. 10 and Thursday, Jan. 19, Kivikko had revisited the apiary to check on Ingram's compliance of previous notifications.

A hearing was set for April 4, a full 3 weeks after the events of March 14, when the IDofA confiscated the bees.

Yet, another part of the statute states, "No person shall transport a colony of bees or items of used bee equipment between counties within this State without a permit or compliance agreement which shall be issued based upon an inspection certificate from the Department. (Source: P.A. 88-138.)

"No person" - except that it's OK for the IDofA to transport apiary equipment and bees intrastate - especially potentially contaminated equipment and bees?

Of course. They have a permit! This double standard makes no sense, especially if the disease is as contagious as they claim.
Source