Indonesia to make it rain to stop life threatening smog
Indonesia on Friday deployed helicopters to artificially create rain to fight raging fires that have choked Singapore with smog, which has hit levels posing a potentially deadly threat to the elderly and the ill.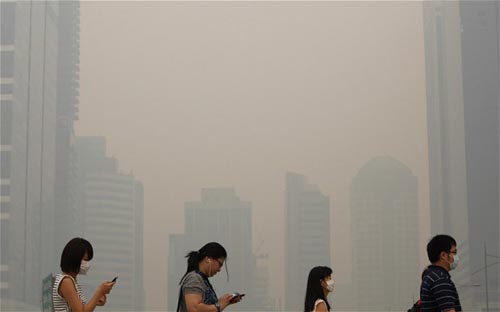 Office workers wearing masks make their way to work in Singapore



At a late-night emergency meeting, President Susilo Bambang Yudhoyono ordered disaster officials to "immediately mobilise all the country's resources" to extinguish the fires on Sumatra island that have created vast palls of smoke.

Singapore's worst environmental crisis in more than a decade has seen the acrid smoke creep into people's flats and cloak residential blocks as well as downtown skyscrapers, and the island's prime minister has warned it could last weeks.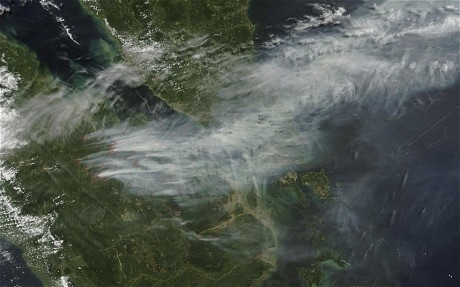 A satellite image showing smoke from forest fires in Sumatra blown eastwards towards southern Malaysia and Singapore


Indonesia's national disaster agency said that two helicopters with cloud-seeding equipment were sent early Friday from Jakarta and Borneo island to Riau province, where hundreds of hectares of carbon-rich peatland are ablaze.

"Hopefully, we will be able to create artificial rain today," said agency spokesman Sutopo Purwo Nugroho.


He also said water-bombing helicopters could be dispatched, although gave no timeframe. Firefighters on the ground have struggled to put out the blazes, which are burning under the surface of the peat.

Firefighters tackling blazes in Bengkalis district, the worst hit area, were "overwhelmed" and unable to cope, Ahmad Saerozi, the head of the natural resources conservation agency in the province, told AFP.

"We have been fighting fires 24 hours a day for two weeks," he said, adding that aircraft must "drop water as soon as possible. We can't do this alone".

[...]

Read the full article at: telegraph.co.uk