Iran To Send Monkey Into Space
Iran is playing catchup in the Space Age and that's no monkey business.

More than 50 years after Yuri Gagarin became the first man in space and 63 years after Albert the rhesus monkey took off in a rocket from the New Mexico desert and flew into space, the Iranian space program will launch its first astro-monkey high above the atmosphere.

The announcement that a monkey in July would boldly go where only a few hairy primates have gone before was made by Hamid Fazeli, head of Iran's Space Organisation, which sent an unmanned satellite into orbit on June 16, the Guardian reported.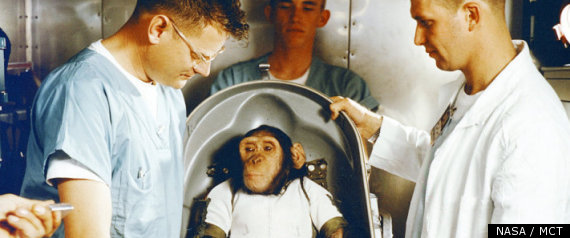 On January 31, 1961, a Mercury-Redstone launch from Cape Canaveral carried the chimpanzee "Ham" over 640 kilometers down range in an arching trajectory that reached a peak of 254 kilometers above the Earth.



The goal is for the monkey to reach an altitude of 120 kilometers, about 74 miles, above the Earth's surface. Ham, a well-trained chimpanzee reached 254 kilometers for NASA during a 1961 mission.

The mission will fulfill the promise made by President Mahmoud Ahmadinejad in February on the anniversary of the Islamic Revolution that a capsule would transport a living monkey into the heavens for the country, the Australian Broadcasting Company reported.

A rat, turtle and worms were part of an Iranian flight in 2010.

The Iranian space program is shooting for the stars and hopes to put a man into by 2020, Agence France Presse reported.

Article from: weirdnews.aol.com