Israel Student Union Set Up "War Room" to Sell Gaza Massacre on Facebook
This article was published on July 14, 2014. The death toll in Gaza as of today, July 23, 2014, reaches 678 according to Al-Akhbar.
Students at the IDC Herzliya "war room," seen here in a screenshot, focus on posting propaganda justifying Israel's attack on Gaza on Facebook.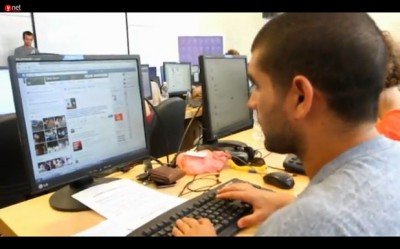 As the death toll from Israel's savage bombardment of Gaza continues to climb, Israel has once again turned to students to sell the slaughter online.

"Although they haven't been called up to the army yet, they've decided to enlist in a civilian mission that is no less important – Israeli propaganda [hasbara]," Ynet's Hebrew edition reported about a massive initiative organized by the Israeli student union branch at the Interdisciplinary Center Herzliya (IDC Herzliya), a prestigious private university.

Hasbara war room

"Hasbara," literally "explaining," is the term used in Israel for government propaganda aimed at overseas audiences.

"The goal is to deliver a very clear message to people abroad – Israel has the right to defend itself," Lidor Bar David told Ynet.

Bar David, a student, and one of the organizers of the "war room," adds, "We want people abroad who don't know our reality to understand exactly what is going on here."

(Update: In a 15 July report, which also links to this post, The New York Times notes that previously "Bar David was a captain in the Israel Defense Forces, serving in the office of the military spokesman's unit.")

At least 168 Palestinians have been killed since Israel massively escalated its attack on Gaza on 7 July (as of July 23, the death toll reaches 678, GR Editor). Eighty percent of the fatalities are civilians, according to the United Nations.

Thirty-six Palestinian children have been killed and more than 1,200 people have been injured. Thousands are fleeing homes fearing escalating Israeli attacks which have so far destroyed or severely damaged 940 homes, as well as numerous mosques, schools, businesses and charities.

A video accompanying the Ynet report shows rows of students beavering away at computers in a hall with a sign on its door saying "Advocacy Room" in English. In Hebrew, it says "Hasbara war room."

While Ynet does not reveal specific government ties to this initiative, the National Union of Israeli Students, of which the IDC Herzliya student union is an affiliate, has a history of working on government-funded propaganda schemes, where students are recruited as the country's "pretty face."

"Organized lying"

Last year a "covert" Israeli government initiative came to light which planned to pay students for spreading propaganda online.

[...]

Read the full article at: globalresearch.ca




---
Israel buys tweets to promote Gaza escalation