Israeli ships stalk pro-Palestinian aid flotilla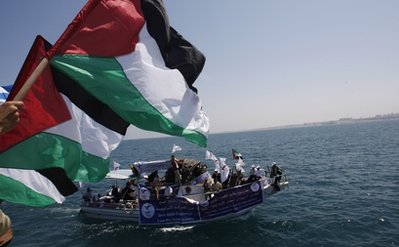 Israeli warships stalked a flotilla carrying hundreds of pro-Palestinian activists, including a Nobel laureate and a Holocaust survivor heading for the Gaza Strip on Monday, edging closer to a naval showdown on the high seas.

Huwaida Arraf, one of the organizers, said the six-ship flotilla began the journey from international waters off the coast of Cyprus on Sunday afternoon after two days of delays. She said they expected to reach Gaza, about 250 miles (400 kilometers) away, on Monday afternoon, and that two more ships would follow in "a second wave."

The flotilla was "fully prepared for the different scenarios" that might arise, and organizers were hopeful that Israeli authorities would "do what's right" and not stop the convoy, she said.

"We fully intend to go to Gaza regardless of any intimidation or threats of violence against us," she said. "They are going to have to forcefully stop us."

After nightfall Sunday, three Israeli navy missile boats left their base in Haifa, steaming out to sea to confront the activists' ships.

Two hours later, Israel Radio broadcast a recording of one of the missile boats warning the flotilla not to approach Gaza.

"If you ignore this order and enter the blockaded area, the Israeli navy will be forced to take all the necessary measures in order to enforce this blockade," the radio message continued.

The al-Jazeera satellite channel reported that the ships changed course to try to avoid a nighttime confrontation, preferring a daylight showdown for better publicity.

The flotilla, which includes three cargo ships and three passenger ships, is trying to draw attention to Israel's three-year blockade of the Gaza Strip. The boats are carrying items that Israel bars from reaching Gaza, like cement and other building materials. The activists said they also were carrying hundreds of electric-powered wheelchairs, prefabricated homes and water purifiers.

Israeli Foreign Ministry spokesman Yigal Palmor said that after a security check, permitted humanitarian aid confiscated from the boats will be transferred to Gaza through authorized channels. However, Israel would not transfer items it has banned from Gaza under its blockade rules. Palmor said that for example, cement would be allowed only if it is tied to a specific project.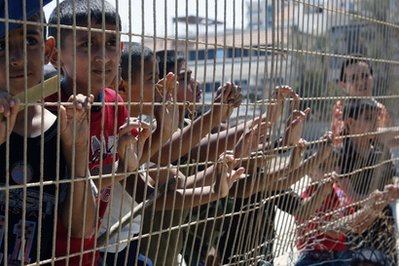 Palestinian boys stare through a fence in Gaza port, as they await a flotilla of aid ships which leaves today for the blockaded territory, in Gaza city, Sunday, May 30, 2010. Hundreds of pro-Palestinian activists on seven ships were to set sail for the Gaza Strip on Sunday from international waters close to Cyprus, edging closer to an expected naval showdown as Israeli officials warned they would halt the flotilla from reaching the blockaded territory.(AP Photo/Hatem Moussa)


This is the ninth time that the Free Gaza movement has tried to ship in humanitarian aid to Gaza since August 2008.

Israel has let ships through five times, but has blocked them from entering Gaza waters since a three-week military offensive against Gaza's Hamas rulers in January 2009. The flotilla bound for Gaza is the largest to date.
Some 700 pro-Palestinian activists are on the boats, including 1976 Nobel Peace Prize laureate Mairead Corrigan Maguire of Northern Ireland, European legislators and an elderly Holocaust survivor.

The mission has experienced repeated delays, both due to mechanical problems and a decision by Cyprus to bar any boat from sailing from its shore to Gaza. The ban forced a group of European lawmakers to depart from the breakaway Turkish Cypriot northern part of the island late Saturday.

Israel and Egypt imposed the blockade on Gaza after Hamas militants violently seized control of the seaside territory in June 2007.

Israel says the measures are needed to prevent Hamas, which has fired thousands of rockets at Israel, from building up its arsenal. But U.N. officials and international aid groups say the blockade has been counterproductive, failing to weaken the Islamic militant group while devastating the local economy.

In particular, the ban on building materials has prevented Gazans from repairing thousands of homes that were damaged or destroyed in an Israeli military offensive, meant to stop Hamas rocket attacks, early last year.

Israel rejects claims of a humanitarian crisis in Gaza, saying it allows more than enough food and medicine into the territory. The Israelis also point to the bustling smuggling industry along Gaza's southern border with Egypt, which has managed to bring consumer goods, gasoline and livestock into the seaside strip.

Israel has condemned the flotilla as a provocation and vowed to block it from reaching Gaza.

Israeli military officials said they hope to resolve the situation peacefully but are prepared for all scenarios. Naval commandos have been training for days in anticipation of the standoff. Military officials, speaking on condition of anonymity under official guidelines, said the forces would likely take over the boats under the cover of darkness.

Palmor said foreigners on the ships would be "sent back to their countries." Activists who did not willingly agree to be deported would be detained. A special detention facility has been set up in the southern Israeli city of Ashdod.

At Gaza's tiny port, meant for small fishing boats, Hamas officials, activists and foreign nationals prepared to welcome the flotilla, sitting in some 40 small boats that were bobbing in the sea and decorated with the flags of the countries of the pro-Palestinian activists, including Turkey and Algeria.

In other boats, Gaza boy scouts played music, while on shore, other activists released balloons with the faces of Palestinian civilians and militants killed in battles with Israeli forces.

In Syria, eight Damascus-based Palestinian groups urged Arab and Muslim states to work to support the flotilla and warned Israel against committing any "foolishness to impede the vessels".

"This could create more tension and trigger unpredictable reactions," said the groups, which included Hamas and the militant Islamic Jihad.

Article from: news.yahoo.com


---



Video from: YouTube.com


---

Also tune into:

David Halpin - Israel, Palestine, The Dignity Incident & Dr David Kelly

Michael Tsarion - Part 6 - The Twelve Lost Tribes, from Egypt to Rome

Michael Tsarion - the Middle East Conflict

Ian Crane - The New World Order's Quest for Zion in 2012

William F Mann - The Knights Templar in the New World, Navigation, Meridians and Secret Knowledge