John Kerry and the Pope set to face off with Jewish Knight Templars on the Temple Mount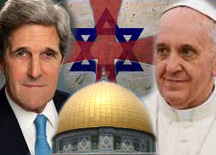 This is the week that supposedly spells the end of the peace process or its end. My money is on a continuation that has no real substance or direction.

What's the alternative?

With Passover and Easter over, Secretary Kerry can return to the Middle East crisis. This, after dealing so successfully with crisis in the Ukraine. [Is the author joking? - RIC]

With Pope Francis arriving in Israel-Palestine soon the (un)holy nature of the conflict can once again be emphasized. Will Kerry and the Pope work hand in hand?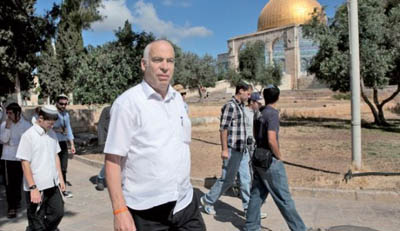 Israeli Housing Minister and settler advocate Uri Ariel visiting the Temple Mount.


Did you notice the increased activity by our very own Jewish Knight Templars on the Temple Mount during Passover? Amazing how Crusaders can wear (religious) coats of many colors. When you think of the Jewish Crusaders and then think of Israel and its great super power partner, America, you know the Crusader tradition is alive and well.

The ominous Palestinian threat, taking Israel to various international tribunals or, perhaps even more serious, allowing the Palestinian Authority to collapse, is on the table this week. But since some years ago, Joseph Massad, that intrepid take-no-prisoners Palestinian commentator, compared the Palestinian Authority to the Jewish Councils of Europe that presided over the Jewish ghettos during the Nazi era, would we really miss the grand old PA?

Collaboration is a tricky issue. Jewish commentators should take a deep breath before sharing their views. But Massad is always worth listening to. Would it be better if the Palestinian version of the Jewish Councils just packed their bags and fled?

Having been protected from its own people by American-trained Palestinian police in close contact with Israel's security apparatus, withdrawing that protection would make it dangerous for Palestinian political elites. This may be why President Abbas has already agreed to an American-led NATO occupation of a Palestinian state if that state, however truncated and ghettoized, ever came into existence.

Palestinian prisoner release is another item Jewish commentators should think twice before offering an opinion. But what does swapping Palestinian prisoners for increased Israeli settlements do in the long run for the Palestinian national cause?

The possibility that the American Jewish spy, Jonathan Pollard, might be released is another interesting possibility being bandied about. Sad to say, Pollard, a slimy character if there ever was one, has become a hero of sorts in certain Israeli circles. The issue isn't so much the question of dual loyalty – an American spying for Israel – as it is testimony to the devolution of Jewish life.

So is this week meaningful, portending a turning point? Or is does it promise to be more of the same charade?

How irresponsible of all parties – America, Israel and the Palestinian Authority – to pretend a turning point when they know it is a charade. So many lives hang in the balance. But, then, collapse, is heavy. Make no mistake – the casualties can come fast and furious.

Is this what our Jewish Knight Templars are about – shock troops for the coming apocalypse? Or is John Kerry enabling an apocalypse under the peace process rubric.

Apocalypse – disaster, catastrophe, destruction.

Call it want you want. Even call it a peace process. Palestine is already experiencing all of the above.

Is it about to get worse?

Read the full article at: mondoweiss.net





---
Tune into Red Ice Radio:
Red Ice Radio Series on Zionism & Multiculturalism
Tony Malone - Zionism, The Bible and The Israel, Palestine Conflict
Patrick Henningsen - Hour 1 - The Politically Correct Matrix
David Halpin - Israel, Palestine, The Dignity Incident & Dr. David Kelly
Ralph Ellis - Pharaohs in Egypt, The BIble, The Hyksos, King Solomon & Cleopatra to Christ
Scott Onstott - Secrets In Plain Sight, The Quadrivium, The Messianic Axis & Mirroring
William F. Mann - The Knights Templar in the New World, Navigation, Meridians & Secret Knowledge