Libyan Rebels Imprison 7000 in "Reign of Terror"
This was always a civil war, and the victors are not merciful.

The detention of 7,000 people in prisons and camps by the anti-Gaddafi forces is not surprising. The conflict in Libya was always much more of a civil war between Libyans than foreign governments pretended or the foreign media reported.

The winning anti-Gaddafi militia are not proving merciful. Often they have had relatives killed in the fighting or imprisoned by the old regime who they want to avenge. Sometimes they come from tribes and towns traditionally hostile to neighbouring tribes and towns. Gaddafi supporters are being hunted down. According to one person in Gaddafi's home town of Sirte, they are facing a "continuing reign of terror".

"There is a deep and spreading frenzy, particularly among some of the youth militia and the Islamists, to hunt down anyone associated with the former regime," the source said.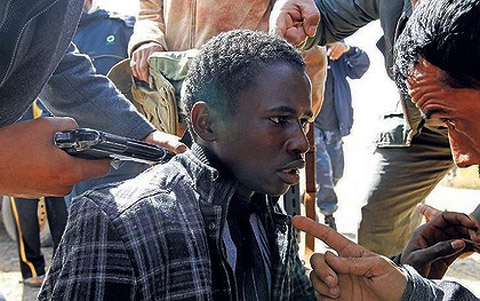 Human Rights Watch reported in July that rebel forces lynched many black migrant workers as suspected mercenaries and dragged 20 Gaddafi officials from their homes and hung them in Al Baida, a town near Misrata. Source


The National Transitional Council, whose control is largely theoretical, is not in a position to stop this purge because many of its members are themselves frightened of being accused of links with the old regime.

Some groups are particularly vulnerable. The then-rebels were convinced earlier this year that many of those they were fighting were mercenaries recruited in Central or West Africa. But when these alleged "mercenaries" were arrested in Tripoli, many turned out to be black migrant labourers without identity papers.

According to Amnesty International, some of those who were put on television by the rebels as mercenaries were later quietly freed because they were migrant workers. Others faced mob justice before they were able to prove their identities.

The international media was overwhelmingly hostile to Gaddafi's regime and tended to highlight atrocities committed by it and disregard or underplay human rights violations carried out by his opponents. An example of this occurred when eight or nine bodies of Libyan soldiers were found who appeared to have been executed. The rebels claimed they had been shot by Gaddafi's men because they tried to change sides. But Amnesty located a film of the soldiers being captured alive by the rebels and it was presumably the rebels who killed them.

The purge of Gaddafi supporters is made more dangerous by the infighting between the militias, and between them and the politicians. Association with the old regime can be used to discredit an opponent. There may also be self-interest since death squads are reported to be taking their property.

Article from: independent.co.uk

Libya's rebels given seat on UN


---

Also tune into:

Pepe Escobar - Invasion of Libya, Arab Spring & R2P

Pepe Escobar - Spoils of Libya, Iran & The Arc of Instability

Diana Johnstone - War on Libya: Perpretators & Manipulators

Ian Crane - The Zionist Connection, DSK, Lies in Libya & The Transforming Sun